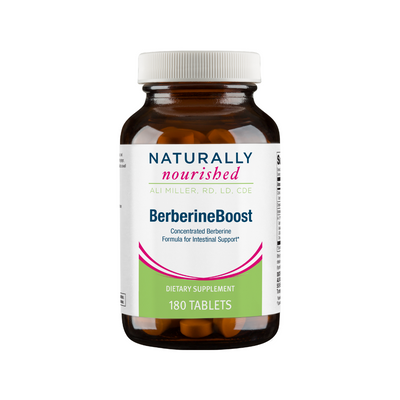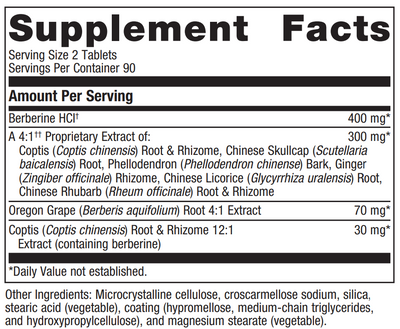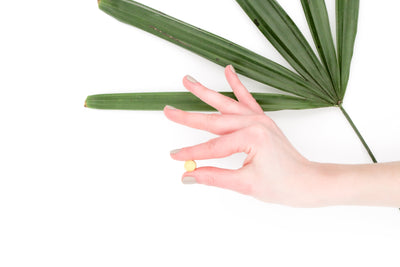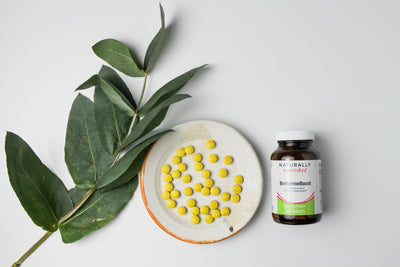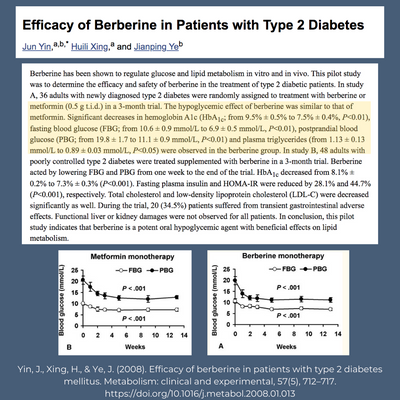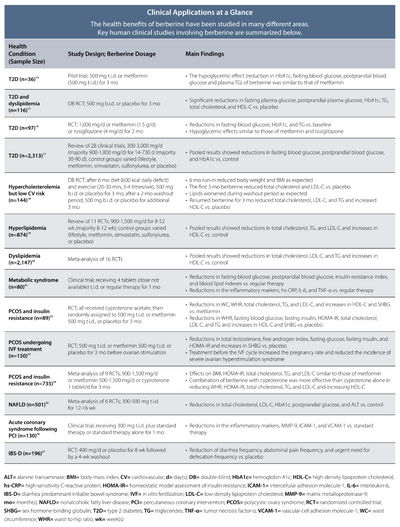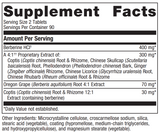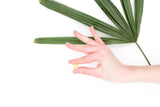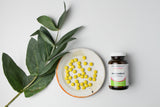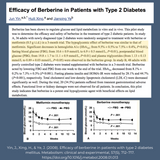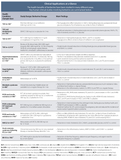 Berberine Boost
180 tablets
This powerful formula combines 2 plant forms of berberine along with concentrate and a blend of TCM herbs to support gut bacterial balance, detoxification, metabolic and hormone health
Learn more
FREE shipping on orders over $150
Benefits of Berberine Boost
Antimicrobial and Antifungal
Gut bacteria reset
Blood sugar regulation
Liver and cholesterol health
PCOS and healthy ovulation
Reduction of uterine fibroids
Skin health and psoriasis
How to Take
Take 1-2 twice daily with food or as recommended by your practitioner
Subscription & Use Tip
Contains 180 tablets which lasts 1.5-3 months with typical use.

Purchase a bundle and SAVE 12%! This product is also featured in Beat The Bloat Bundle
Safety
Not recommended while breastfeeding
Not recommended during pregnancy
Safe for Kids
Learn more
This product also supports
Detox and Liver Support Digestion and Gut Health Hormones and Fertility Immune and Wellness
Description
Berberine Boost combines berberine hydrochloride, Oregon grape extract, and goldenseal (coptis) root extract, with a proprietary extract of Chinese herbs—including ginger, licorice, and skullcap—to support detoxification of the liver and gallbladder, as well as healthy immune, detoxification, and elimination functions.
May promote healthy blood sugar balance as well as lipid levels and aids in regulation of the gut microbiome as a potent anti-microbial. You may also consider using this supplement when traveling internationally to prevent food-borne illness.
This formula is included in my Beat the Bloat cleanse bundle if you are looking to reset your microbiome consider this bundle upgrade. 
*These statements have not been evaluated by the Food and Drug Administration. This product is not intended to diagnose, treat, cure or prevent any disease.
Why Naturally Nourished
Potency

Clinical Results

Synergistic Formulas

Third Party Tested

Purity
Benefits
Personal testimony from my instagram feed on 1/23/20:
As I am hitting my 6th week of my Beat the Bloat Cleanse (see photo back in my IG feed), one of the biggest takeaways has been the "action" I've experienced in my uterus! I believe this was a huge piece of the puzzle getting pregnant with Stella after my first cleanse and recovering from my traumatic c-section after she weaned as well. There is a HUGE connection between the microbiome, uterus and ovaries and not just because of proximity to the gut! Our microbiome plays a major role in deconjugation of estrogen meaning if gut bugs are off or if you are not pooping regularly, we can see estrogen recirculate and wreak havoc in the body.

What is even cooler is that one compound in my Beat the Bloat Cleanse in particular, Berberine, can promote healthy ovulation and uterine tissue and has been shown to be equally or more effective that Metformin in the management of PCOS! Swipe for 3 separate studies citing Berberine's application and effectiveness in PCOS, Fertility and Uterine Fibroids! "Berberine appears to be a useful and safe compound for improving spontaneous ovulation and enhancing fertility" is totally music to my ears and I am going to start using my Berberine Boost with ALL my PCOS cases as well as implementing a Beat the Bloat Cleanse as part of my protocol for working with infertility! What is even cooler is that Berberine doesn't have the nasty side effects of medications like Metformin of GI issues, mitochondrial damage and nutrient deficiencies and can also enhance liver function and detoxification while it works to support healthy digestion, glycemic control and normal lipids!

Berberine Boost can be taken on its own at 2 twice daily with food or as a part of my Beat the Bloat Cleanse, recommended at least once per year for those with any history of dysbiosis or yeast overgrowth, endometriosis or skin conditions.
Research
Berberine Boost
180 tablets