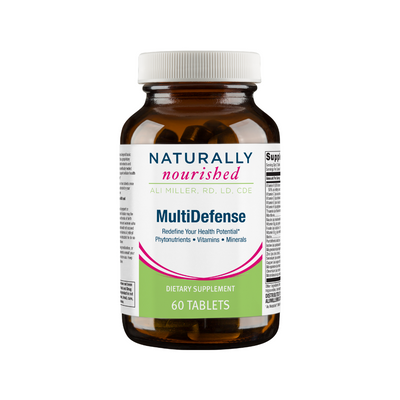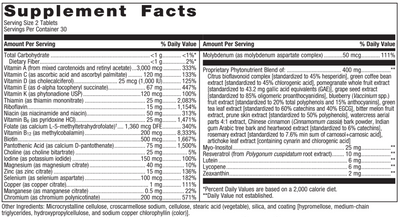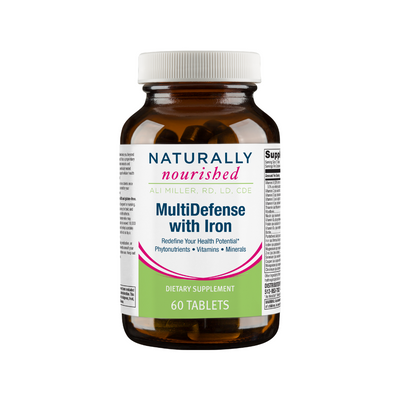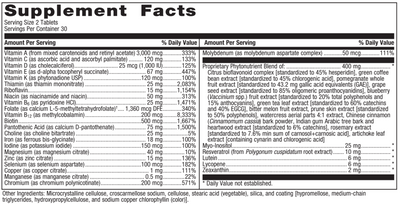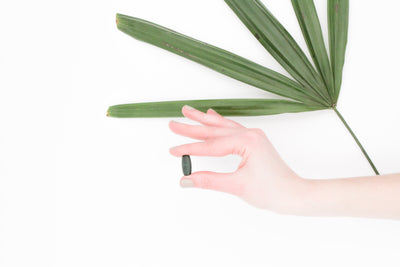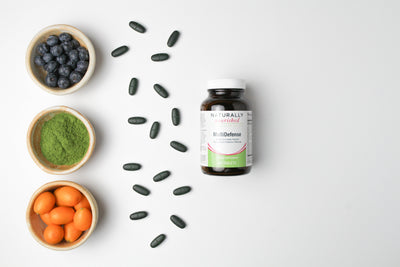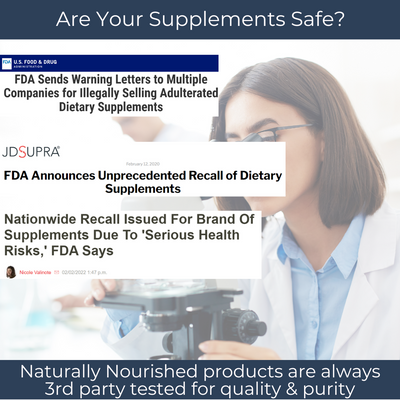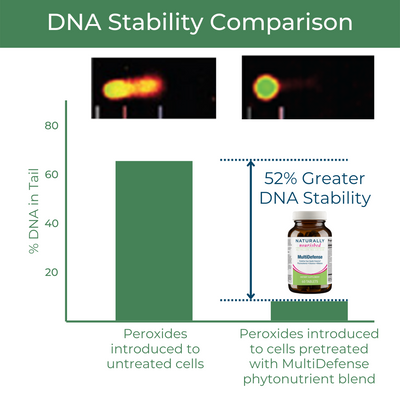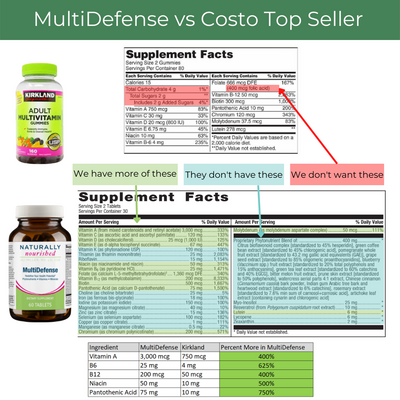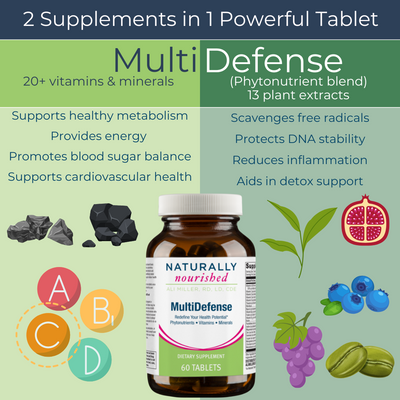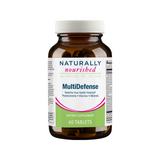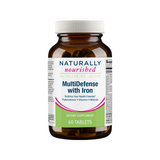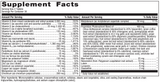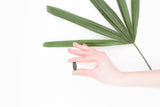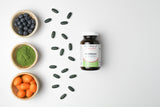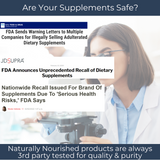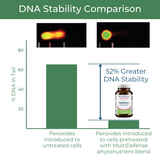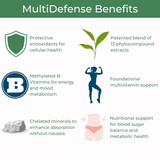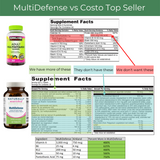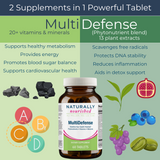 MultiDefense
60 tablets
Foundational multivitamin that goes beyond vitamins and minerals providing 13 research supported phytocompounds that recharge, nourish, protect and defend your cellular and whole body health Learn more
FREE shipping on orders over $150
Benefits of Multidefense
Protective antioxidants for cell health
Methylated B-vitamins for energy mood and metabolism
Chelated minerals to enhance absorption without nausea
Unique patented blend of 13 research supported phytocompound extracts
Foundational multivitamin support
How to Take
Take 1 tablet twice daily with food
Subscription & Use Tip
Contains 60 tablets which lasts one month with typical use.

Purchase a bundle and SAVE 12%! This product is also featured in Essential Wellness Bundle
This product also supports
Energy and Performance Immune and Wellness Thyroid and Adrenals
What Makes MultiDefense Superior?
We ensure all our products have the most bioavailable form of ingredients and combine different compounds to get the most powerful effects.
Description
MultiDefense: takes you beyond basic wellness support. It has a proprietary blend of 13 concentrated extracts and phytonutrients with scientifically tested biological activity to protect your cells and maintain DNA stability—activating your health potential like no other supplement.
Please note: there are two options for MultiDefense, with and without Iron
Multidefense with Iron is recommended for women menstruating or those with need for iron support such as vegetarians, immunocompromised and anemic individuals. 

If you are not a menstruating female or do not have a known need for iron supplementation such as vegetarians, immunocompromised and anemic individuals would then likely you are a better candidate for our iron-free option Multidefense.
* These statements have not been evaluated by the Food and Drug Administration. This product is not intended to diagnose, treat, cure or prevent any disease.
Why Naturally Nourished
Potency

Clinical Results

Synergistic Formulas

Third Party Tested

Purity
Benefits
Multidefense reflects extensive research on the diverse phytonutrients found in a healthy Mediterranean diet, rich in a colorful variety of fruits, vegetables, herbs, and other plant foods. Phytonutrients provide important nourishment to promote healthy cellular function and communication in the body. They also provide antioxidant protection against potentially damaging free radicals that increase with age, poor lifestyle choices, and pollutants. That's why health experts recommend eating more phytonutrient-rich foods to help you thrive.
Multidefense is intelligently designed for a revolutionary approach, our scientists created a proprietary blend of carefully selected plant extracts known for their complex phytonutrient content. Standardized extracts offer a more concentrated source than simple food powders. And lab tests verify the presence of key phytonutrients in each extract, along with the presence of other naturally occurring factors that may positively influence health.
Multidefense also includes other superior phytonutrients—including lutein, lycopene, and resveratrol—to provide targeted support for healthy eyes, heart, and more. Delivering support for cellular protection & overall health Multidefense is uniquely designed to protect the cell—to help the cell send signals in favor of good health throughout the body. Recent clinical research demonstrated potential to support the
body's antioxidant and detoxification mechanisms, as well as to improve certain markers of oxidative stress and cardiovascular health.
A sophisticated Comet test has demonstrated the phytonutrient blend's potential to maintain DNA stability in
human immune cells. And an advanced Total ORACFN assay has shown Multidefense's superior potential for protection against oxidative stress caused by free radicals. A smart choice for a super-charged dose of nutrients this multivitamin goes beyond daily nutritional supplementation with an optimized blend of health-supporting nutrients. This research-based formulation delivers focused, multidimensional
support for healthy aging with the power of concentrated phytonutrients—in just 1 to 2 tablets daily.
How to Use
Note this formula is suitable for children once they are at 60 pounds or greater and once they can swallow tablets. If your children are under 60 pounds and/or cannot swallow tablets take MultiAvail Kids at 2-4 chews instead.
Research
References:
1. Willett WC. Diet and health: what should we eat? Science. 1994;264(5158):532-537.
2. Block G, Patterson B, Subar A. Nutr Cancer. 1992;18(1):1-29.
3. Steinmetz KA, Potter JD. Cancer Causes Control. 1991;2(5):325-357.
4. Centers for Disease Control and Prevention (CDC). MMWR Morb Mortal Wkly Rep. 2015;64(26):709-713.
5. Agarwal S, Reider C, Brooks JR, Fulgoni VL 3rd. J Am Coll Nutr. 2015;34(2):126-134.
6. Potapovich AI, Kostyuk VA. Biochem. 2003;68(5):514-519.
7. Stoner GD, Wanf LS, Casto BC. Carcinogenesis. 200829(9): 1665-1674.
8. Liu LK, Lee HJ, Shih YW, Chyau CC, Wang CJ. J Food Sci. 2008;73(6):H113-121.
9. Hooper PL, Tytell M, Vigh L. Cell Stress & Chaperones. 2010;15(6):761-770.
10. Howitz KT, Sinclair DA. Cell. 2008;133(3):387-391.
11. Thompson HJ, Heimendinger J, Diker A, et al. J Nutr. 2006;136(8):2207-2212.
12. Lerman RH, Desai A, Lamb JJ, Chang JL, Darland G, Konda VR. Glob Adv Health Med. 2014; 3(2):34-39.