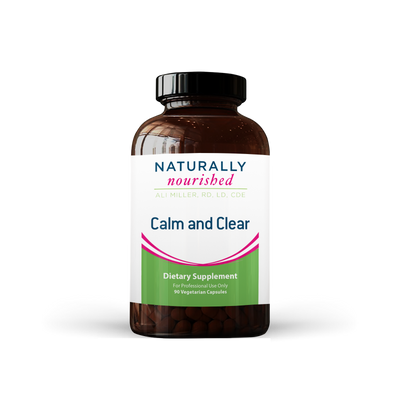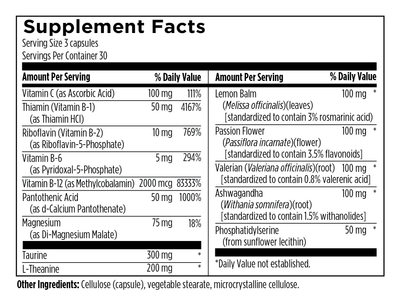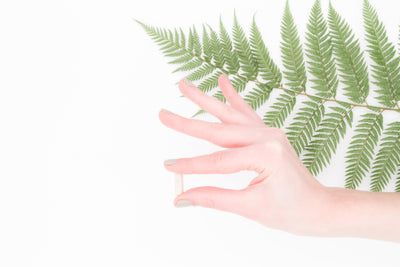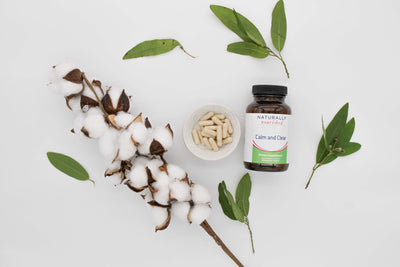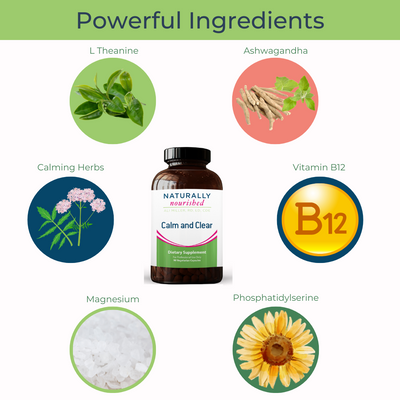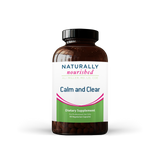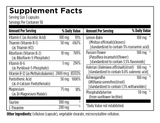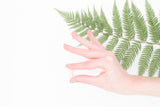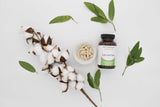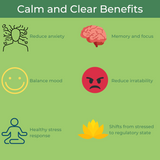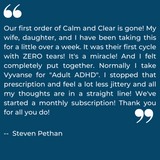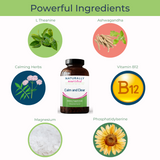 Calm and Clear
90 capsules
A game changing blend of herbs, vitamins, and amino acids to help you ride the waves of your rocking life without losing sleep or feeling anxious while being productive and feeling grounded Learn more
FREE shipping on orders over $150
Benefits of Calm and Clear
Reduced anxiety
Balanced mood
Healthy stress response
Memory and focus
Reduced irritability
Shifting from stressed to regulatory state
How to Take
Take 1 capsule three times daily with or without food at rise, mid-day, and evening.
If dealing with difficulty falling asleep or middle of the night waking consider 2 in the evening.
If under chronic stress or significant demand consider 2-3 capsules 3 times a day.
Subscription & Use Tip
Each bottle contains 90 capsules which lasts about 1 month with typical daily use at 3 per day or 2-3 weeks with intensive stress at 4-6 per day.

Purchase a bundle and SAVE 12%! This product is also featured in Anti-Anxiety Jumpstart Bundle and Stress Manager Bundle
Safety
Safe with breastfeeding

Not recommended during pregnancy
Safe for Kids
Learn more
This product also supports
Calm and Mood Hormones and Fertility Inflammation & Brain Thyroid and Adrenals
What Makes Calm and Clear Superior?
We ensure all our products have the most bioavailable form of ingredients and combine different compounds to get the most powerful effects.
Description
Calm and Clear provides a blend of herbs, vitamins, and amino acids to help you ride the waves of your rocking life without losing sleep or feeling anxious while being productive and feeling grounded. 
Essential survival tool to promote a calm balanced state during times of stress!
This unique formulation is designed to support healthy catecholamine (excitatory neurotransmitter) levels with adaptogenic herbs and nutrients that help balance mood, promoting calmness and relaxation. Calm and Clear reduces your body's stress response by supporting adrenal gland health, reducing excess cortisol output to limit undesired blood sugar spikes and body fat storage. This formula also contains a potent dose of the amino acid l-theanine supportive of creative thought process, concentration, focus, and healthy stress response.
Featured ingredients: 
Vitamin C and the B vitamin family: Help support steady energy levels. When the body is under stress, it can get "revved up" and burn through nutrients quickly, so it is important to maintain sufficient levels of these valuable vitamins. Vitamin B12 helps support proper levels of catecholamines. Note: this formula is free of folate intentionally to allow flexible dosing without overdriving methylation pathways.
Vitamins C and B5 (pantothenic acid) are important for healthy adrenal gland function — the adrenals being the primary glands responsible for producing the stress response.
Phosphatidylserine (PS): promotes healthy hormone levels by helping to normalize cortisol levels when the body is under stress, working to reduce cortisol peaks which can interrupt regulatory function and circadian rhythm such as waking in the middle of the night. The PS in this product is soy-free and is derived from sunflower lecithin.
Ashwagandha: An adaptogenic herb with a long history in Ayurvedic medicine for aiding healthy stress response. "Adaptogenic" herbs are given this name because they help the body adapt to stress, assisting in optimizing levels of hormones and neurotransmitters.
Magnesium: One of the body's most important minerals; aids in muscle relaxation and therefore may help with occasional simple nervous tension and may offer a calming effect for both body and mind.
Valerian, lemon balm and passion flower: Herbs that promote relaxation, in part by supporting the production of GABA, a calming neurotransmitter that helps balance the stress catecholamines.
*These statements have not been evaluated by the Food and Drug Administration. This product is not intended to diagnose, treat, cure or prevent any disease.

**This formula contains various herbs and nutrients which may have contraindicated effects with medications, always check use with your medical team. 
Why Naturally Nourished
Potency

Clinical Results

Synergistic Formulas

Third Party Tested

Purity
Benefits
Calm and Clear is my desert island supplement. I don't think I could run a nutrition clinic, mother a 3 year old, and manage constant stress demands without it. It is a true chill pill, Calm and Clear aids in feeling grounded and cognitively sharp while functioning in total boss mode. When I am stressed and wired the use of this formula aids in regulating my fight-or-flight sympathetic mode, telling my body it is safe to shift into rest and digest parasympathetic mode. This regulatory vs. reactive survival state is essential for optimized thyroid, hormone, reproductive, digestive, and metabolic health. I take 6-9 per day and notice this level keeps me resilient, balanced, and focused.
This unique formula contains a blend of vitamins, minerals and adaptogenic herbs designed to support a healthy response to stress. The most well-known stress chemicals in the body are cortisol and the catecholamines – specifically, epinephrine (adrenaline) and norepinephrine. Calm and Clear is formulated to help balance the levels of these chemicals and to support overall health.
The mind-body connection is a powerful system; proper levels of stress chemicals help to support healthy blood sugar and insulin levels, body weight, the immune system and a positive mental outlook. When in excess these catecholamines and stress responding chemicals can make an individual feel buzzing or excitatory, constantly "on" as well as anxious and on edge. Calm and Clear may support not only stress management and a mellow mood but is a way to regulate the body at times of demand.
Q&A
Can I take Calm and Clear with my medication?
Always consult your medical team when looking to add supplements to your medication list. With this said, the ingredients in this formula have no known drug-nutrient interaction and likely can be used in coordination with antidepressant and antianxiety medications.
This is often used in my clinic and as a recommended primary tool in The Anti-Anxiety Diet protocol to support optimal health in combination with, in place of, or to support successful wean of prescription medication.**
How quickly should it take to feel the effects?
Effects of most of these active ingredients can be felt within 30-45 minutes of use and often may last 8-10 hours.
With this said, consistent daily use may aid in further regulating mood and stress levels, preventing the body's overreaction to stressors and reducing the anxious or irritable response at times of increased demand. It is best to establish a foundational level of 3-4 capsules per day and then increase as needed based on demand.
I see this formula has B12 and Ashwagandha, will it keep me up at night?
No, the synergy of ingredients including valerian, passion flower, and lemon balm serve as nervines to calm the nervous system and support deep restful sleep. Ashwagandha has been shown to support healthy quality sleep and balanced circadian rhythms. While B-12 can indeed support energy, it also supports neurological function and studies show B-12 deficiency can drive insomnia. However, everyone is biochemically unique and you may find best support with daytime use.
If this formula is for calming is it going to make me tired?
Just as noted in the question above, this is a balanced formula and although it contains nervine herbs and a calming blend of amino acids including l-theanine and taurine which reduce anxiety, the formula is not sedative or depleting in energy. When you aren't constantly stressed and wired, your energy is tonified, grounded, and strong. This is a welcomed balance that allows the fortitude to take on the day in a relaxed but aware state supporting optimal cognitive function, creativity, and balanced mood.
Research
These studies demonstrate the role of stress on blood sugar management and weight gain with the impact of Ashwagandha to reduce body fat, food cravings, and cortisol excess.
Joseph JJ, Golden SH. Cortisol dysregulation: the bidirectional link between stress, depression, and type 2 diabetes mellitus. Ann N Y Acad Sci. 2017;1391(1):20–34. doi:10.1111/nyas.13217.
Choudhary D, Bhattacharyya S, Joshi K. Body Weight Management in Adults Under Chronic Stress Through Treatment With Ashwagandha Root Extract: A Double-Blind, Randomized, Placebo-Controlled Trial. J Evid Based Complementary Altern Med. 2017;22(1):96–106. doi:10.1177/2156587216641830.
These studies unpack the effects of L-theanine as a brain enhancer, mood stabilizer, and neuroprotective compound:
Nathan PJ, Lu K, Gray M, Oliver C. The neuropharmacology of L-theanine(N-ethyl-L-glutamine): a possible neuroprotective and cognitive enhancing agent. J Herb Pharmacother. 2006;6(2):21-30.
Nobre AC, Rao A, Owen GN. L-theanine, a natural constituent in tea, and its effect on mental state. Asia Pac J Clin Nutr. 2008;17 Suppl 1:167-8.
Lardner AL. Neurobiological effects of the green tea constituent theanine and its potential role in the treatment of psychiatric and neurodegenerative disorders. Nutr Neurosci. 2014 Jul;17(4):145-55. doi: 10.1179/1476830513Y.0000000079.
Phosphatidyl Serine and cortisol regulation supporting balance in HPA-axis:
Schmidt K, Weber N, Steiner M, et al. A lecithin phosphatidylserine and phosphatidic acid complex (PAS) reduces symptoms of the premenstrual syndrome (PMS): Results of a randomized, placebo-controlled, double-blind clinical trial.
Clin Nutr ESPEN. 2018 Apr;24:22-30. doi: 10.1016/j.clnesp.2018.01.067.
Hirayama S1, Terasawa K, Rabeler R, Hirayama T, Inoue T, Tatsumi Y, Purpura M, Jäger R.
The effect of phosphatidylserine administration on memory and symptoms of attention-deficit hyperactivity disorder: a randomised, double-blind, placebo-controlled clinical trial.
J Hum Nutr Diet. 2014 Apr;27 Suppl 2:284-91. doi: 10.1111/jhn.12090. Epub 2013 Mar 17.
Hellhammer J, Hero T, Franz N, Contreras C, Schubert M. Omega-3 fatty acids administered in phosphatidylserine improved certain aspects of high chronic stress in men. Nutr Res. 2012 Apr;32(4):241-50. doi: 10.1016/j.nutres.2012.03.003.
Taurine is shown as a mood stabilizer and stress regulator:
Mezzomo NJ, Fontana BD, Müller TE et al. Taurine modulates the stress response in zebrafish. Horm Behav. 2019 Mar;109:44-52. doi: 10.1016/j.yhbeh.2019.02.006.
Wu GF, Ren S, Tang RY, et al. Antidepressant effect of taurine in chronic unpredictable mild stress-induced depressive rats. Sci Rep. 2017;7(1):4989. doi:10.1038/s41598-017-05051-3.
These studies highlight the mood stabilizing effects of the featured B-vitamins in this formula:
Liu D, Ke Z, Luo J. Thiamine Deficiency and Neurodegeneration: the Interplay Among Oxidative Stress, Endoplasmic Reticulum Stress, and Autophagy. Mol Neurobiol. 2017;54(7):5440–5448. doi:10.1007/s12035-016-0079-9.
Tufan AE, Bilici R, Usta G, Erdoğan A. Mood disorder with mixed, psychotic features due to vitamin b12 deficiency in an adolescent: case report. Child Adolesc Psychiatry Ment Health. 2012;6(1):25. doi:10.1186/1753-2000-6-25
Sato K. Why is vitamin B6 effective in alleviating the symptoms of autism? Med Hypotheses. 2018 Jun;115:103-106. Doi: 10.1016/j.mehy.2018.04.007
Calm and Clear
90 capsules