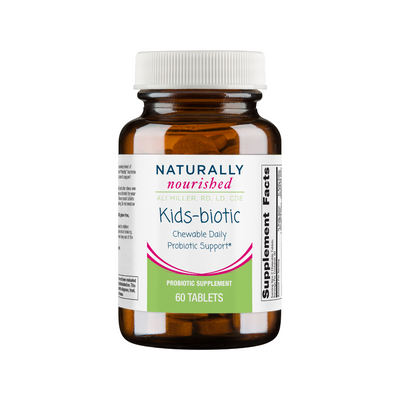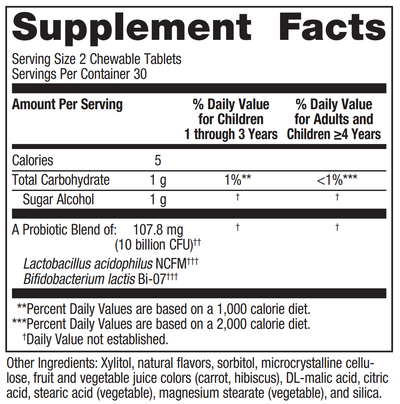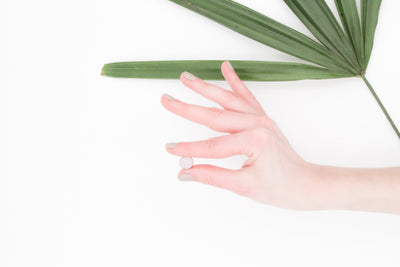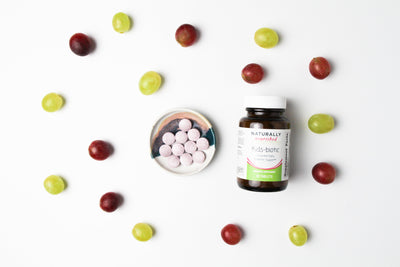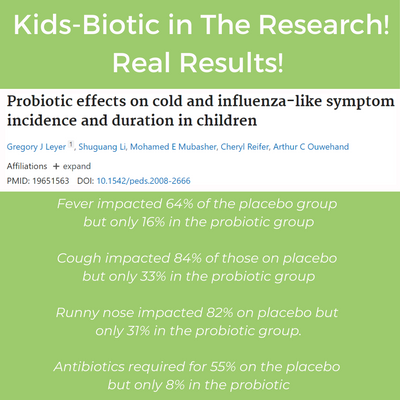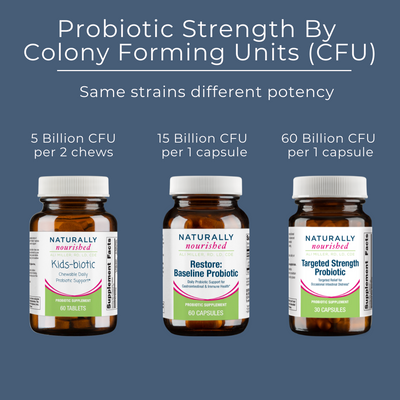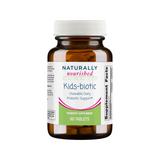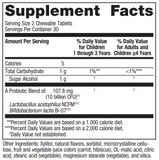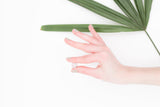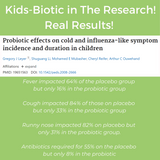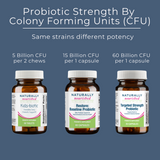 Kids-biotic
60 chewable tablets
Potent dairy-free great tasting probiotic that provides the 2 specific strains that have shown by research to support immune, digestive, and bowel health. Learn more
FREE shipping on orders over $150
Benefits of Kids-Biotic:
Bowel regularity
Enhanced nutrient status
Reduced stomach pain and indigestion
Aids in immune health
Supports balanced mood
Skin health and microbiome balance
How to Take
At age 1+ crush up one tablet and incorporate into food bite such as yogurt, avocado, applesauce. At age 2+ or confident in chewing tablet, 1 chew after breakfast daily. Children age 3 and older chew two tablets once daily after breakfast or dinner or as directed by your healthcare practitioner.
Chew or crush tablets completely before swallowing. Do not swallow tablets whole.
Subscription & Use Tip
Contains 60 tablets which lasts 1-2 months based on typical use.

Purchase a bundle and SAVE 12%! This product is also featured in Kids Essentials Bundle
Safety
Safe with breastfeeding

Safe during pregnancy

Safe for Kids
Learn more
This product also supports
Calm and Mood Digestion and Gut Health
Description
Kids-Biotic provides a proprietary blend of highly viable, pure strains of "friendly" bacteria that have been clinically shown to support immune health. This delicious, naturally grape flavored chewable formula is backed by our 3rd party guarantee for purity, clinical reliability, and safety via scientific identification of strains with established health benefits.
The probiotic strains used in a study by The Journal of Pediatrics linked in research tab, are the EXACT two strains that are ID guaranteed in my Kids-Biotic and they demonstrated reduced fever, cough, runny nose, and duration of sick days in children that used the probiotic vs. those that took a placebo!
The strain of lactobaccilus acidophilus NCFM has been shown in a comprehensive review to improve bowel formation and survive gastrointestinal tract transit in both healthy and diseased populations. See Research tab for details and links!
Not sure what probiotic you need? Click to view our handy Probiotic Guide! 
* These statements have not been evaluated by the Food and Drug Administration. This product is not intended to diagnose, treat, cure or prevent any disease.
Why Naturally Nourished
Potency

Clinical Results

Synergistic Formulas

Third Party Tested

Purity
Research
The probiotic strains used in this study are the EXACT two strains that are ID guaranteed in my Kids-Biotic! This double-blind, placebo-controlled study, Probiotic effects on Cold and Influenza-like symptom incidence and duration in children, we see significant immune benefits including less fever, rhinorrhea (runny nose/mucous), coughing, and duration of illness with use of probiotics. Important note: all probiotics are not equal in fact many aren't strain specific or in an ample CFU!
Details: 326 eligible children (3-5 years of age) were assigned randomly to receive placebo (N = 104), Lactobacillus acidophilus NCFM (N = 110), or L acidophilus NCFM in combination with Bifidobacterium animalis subsp lactis Bi-07 (N = 112). Children were treated twice daily for 6 months.
Check out the outcomes on the table in image with the number of incidence and percent of population impacted!

For instance 66 kids which was 64% of the placebo group got a fever whereas the probiotic blend group only 18 kids or 16% of the treatment group. The probiotic strains used in this study are the EXACT two strains that are ID guaranteed in my Kids-Biotic!
Probiotic Effects on Cold and Influenza-Like Symptom Incidence and Duration in Children. Gregory J. Leyer, Shuguang Li, Mohamed E. Mubasher, Cheryl Reifer and Arthur C. Ouwehand. Pediatrics August 2009, 124 (2) e172-e179; DOI: https://doi.org/10.1542/peds.2008-2666
Another study examined the effects of one of the strains in depth and confirms viability in the gut from oral consumption as well as digestive health and improved bowel formation.
Invited review: the scientific basis of Lactobacillus acidophilus NCFM functionality as a probiotic. Sanders ME1, Klaenhammer TR. J Dairy Sci. 2001 Feb;84(2):319-31.
Kids-biotic
60 chewable tablets