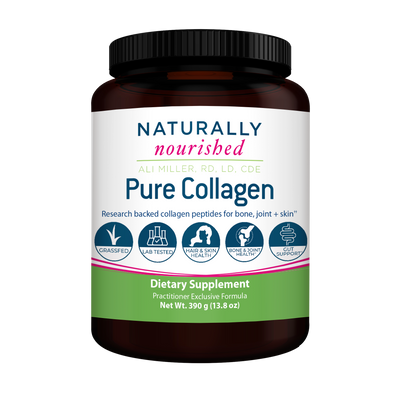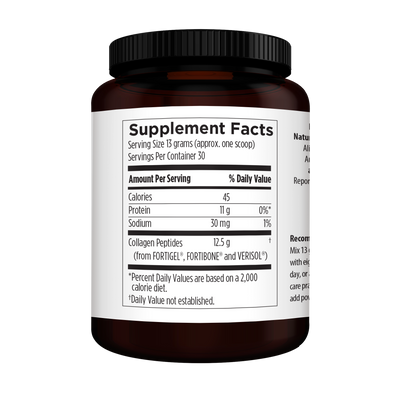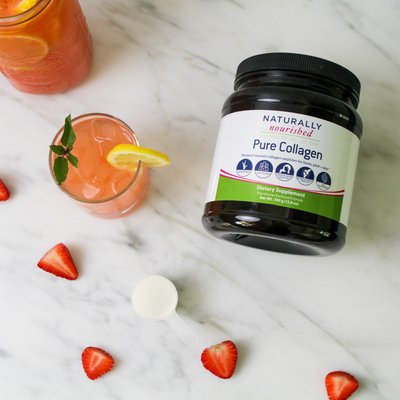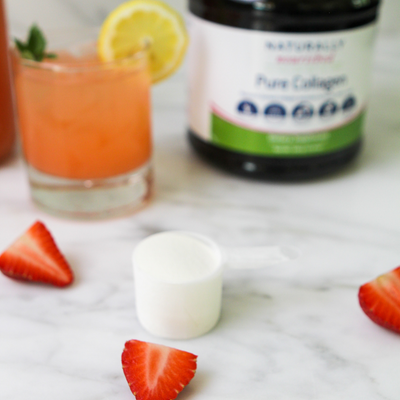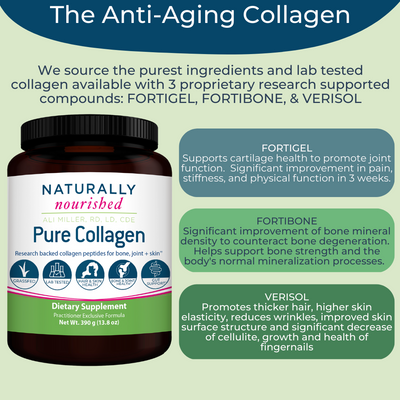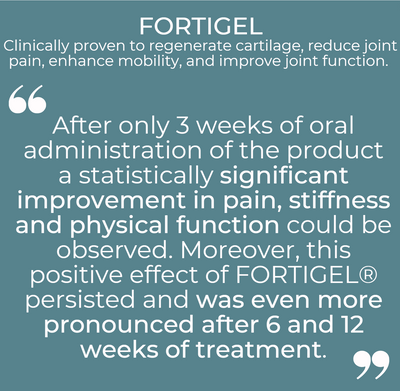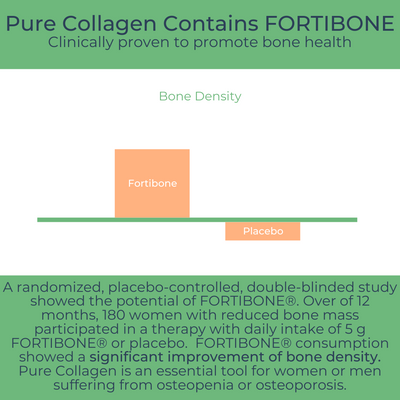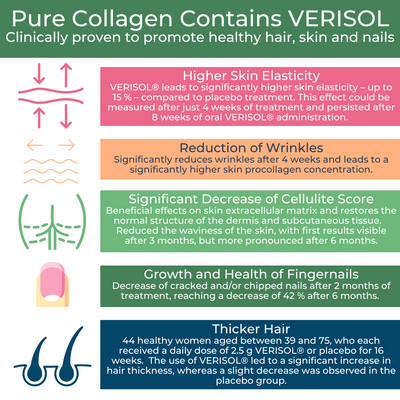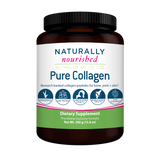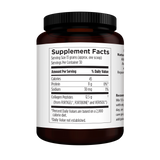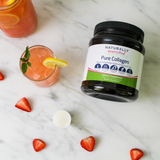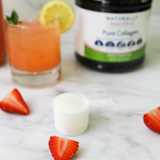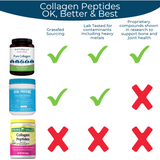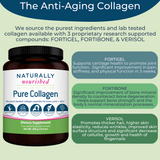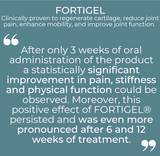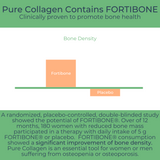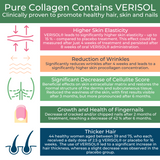 Pure Collagen
30 scoops
Grassfed collagen that is lab-tested for purity and extracted to yield 3 powerful research proven compounds for bone, joint, and skin health. Our Pure Collagen formula yields bioactive collagen peptides with regenerative anti-aging effects setting it apart from competitors.
FREE shipping on orders over $150
Benefits of Pure Collagen:
Improved cartilage tissue
Reduced joint pain
Improved bone density
Reduced Cellulite
Improved hair growth
Supports leaky gut repair
Improved mobility
How to Take
1-2 scoops daily or as desired in coffee, tea, smoothies, protein shakes, and recipes as desired. For best results add to cup prior to liquid and blend.
Subscription & Use Tip
Contains 30 scoops which lasts 1 month with typical use.
Safety
Safe with breastfeeding

Safe during pregnancy

Safe for Kids
Learn more
This product also supports
Digestion and Gut Health Energy and Performance Immune and Wellness
What Makes Pure Collagen Superior?
Description
Pure Collagen is sourced from cows that spend their life on pastures grazing on grass and forage and are not exposed to GMOs. We lab test every batch to ensure there are no heavy metals including mercury, lead, cadmium, and arsenic. But our purity isn't the only thing that sets our product apart from competitors, it is all about the extraction! 
Pure collagen is not just a protein powder or even just collagen peptides! Our product is produced through a proprietary extraction method that produces bioactive peptides shown in research to stimulate new bone, joint cartilage tissue, and skin, hair, and nails via regenerative anti-aging effects. Our formula contains FORTIGEL, FORTIBONE, and VERISOL, 3 compounds that promote synthesis of collagen and stimulate focused cells to prevent breakdown while supporting new growth.
Reduce pain, improve bone health, and improve hair, skin, and nail health with Pure Collagen!
One of our three proprietary extracted collagen bioactive compounds, FORTIGEL, is an innovative ingredient for the regeneration of joint cartilage. Collagenous protein makes up nearly 70% of cartilage mass. Optimized specific collagen peptides of FORTIGEL have been proven to activate the growth of new cartilage by stimulating cells helping to ease joint discomfort and make the joints smooth and mobile. 
Collagen isn't just an important building block of cartilage and skin; it's also a major component of bone tissue. A featured biologically active compound in our Pure Collagen, FORTIBONE, comprises specific collagen peptides that can help to stimulate bone matrix synthesis and mineralization. Clinical studies have demonstrated an increase in total bone mass after collagen peptide treatment. Moreover, in osteoporotic patients it could be demonstrated that a daily intake of collagen peptides leads to significantly reduced bone degradation processes and significantly decreased re-fracture rate.
Bone is a mixture of mineral crystals held in an organic collagen matrix. On their own, the crystals would be extremely brittle and prone to break. Like a bridge is built out of concrete and steel, collagen in the bones is essential for bone flexibility and elasticity.
FORTIBONE® stimulates synthesis of bone collagen matrix
The specific peptides of FORTIBONE® stimulate bone cells to increase the synthesis of bone components such as collagen. They have a kind of 'signaling effect' on osteoblasts to counterbalance the collagen degradation in the extracellular bone matrix, which is the essential framework for bone mineralization. In addition FORTIBONE® influences degenerative processes in bones by reducing osteoclast activity. The result is a considerably higher synthesis of collagenous bone matrix.
Bone metabolism
Collagen is the major structural component of skin, comprising about 80 % of its dry weight. Skin properties are known to be affected by endogenous and environmental factors including aging, ultraviolet radiation, hormones and nutrition. VERISOL® can stimulate skin metabolism and counteract the loss of collagenous extracellular matrix from the inside. Consumers who ingest the natural Bioactive Collagen Peptides® VERISOL® specially optimized for beauty applications can experience noticeably firmer and smoother skin with fewer wrinkles. The positive effect of VERISOL also shows in an improved skin surface structure, reducing cellulite and a faster nail growth with reportedly less chipping of fingernails. VERISOL® and the associated benefits are available from different raw material sources to best meet diverse consumer demands.
Mode of Action
The specific peptides of VERISOL® are recognized by the fibroblast cells in the dermal layer of the skin as collagen fragments like those resulting from catabolic activities. Therefore they are stimulated to increase their collagen metabolism to counter-balance the pretended collagen degradation in the dermis. The result is a considerably higher production of dermal collagen and overall extracellular matrix, replacing what is lost through aging and environmental influences.
Significant improvement of skin health
VERISOL® influences the skin's collagen metabolism directly from the inside. It increases the skin moisture and delays the formation of wrinkles. Several scientific experiments investigated the potential of VERISOL®. 
* These statements have not been evaluated by the Food and Drug Administration. This product is not intended to diagnose, treat, cure or prevent any disease.
Why Naturally Nourished
Potency

Clinical Results

Synergistic Formulas

Third Party Tested

Purity
Benefits
Benefits of Pure Collagen:
Improved cartilage tissue

Reduced joint pain

Improved bone density

Reduced Cellulite

Improved hair growth

Supports leaky gut repair

Improved mobility
How to Use
1-2 scoops daily or as desired in coffee, tea, smoothies, protein shakes, and recipes as desired. For best results add to cup prior to liquid and blend.
Research
We will break down the research below based on our 3 featured collagen bioactive compounds: FORTIGEL, FORTIBONE, VERISOL
FORTIGEL
Penn State study confirms improvement of mobility with FORTIGEL®
At Penn State University (USA, 2008), 147 athletes were recruited who experienced activity-related joint pain. Those athletes (mean age 20.1 years) were subdivided into one group taking FORTIGEL® as a nutritional supplement and a control group taking a placebo for 24 weeks. The severity of symptoms was rated both by the treating physician and by the study participants with a visual analogue scale.
In this prospective, randomized, double-blind, placebo-controlled study, there was a statistically significant difference of pain perception between treatment and control groups. When utilizing alternative therapies such as hydrotherapy, massage and ice and heat packs, there was a clear-cut difference between the treatment and the placebo group in favor of the FORTIGEL® group.
McAlindon proves long term effect of FORTIGEL®
In a study published in March 2011 by McAlindon and colleagues, the long term effect of FORTIGEL® treatment on the composition of hyaline cartilage in individuals with early knee osteoarthritis was investigated. This prospective, randomized, double-blind, placebo-controlled pilot study was performed at the Tufts Medical Center in cooperation with Harvard University.
A specific type of magnetic resonance imaging (dGEMRIC) was utilized in order to visualize structural changes in cartilage tissue of the respective study participants. Overall, 30 subjects were randomized into one group receiving 10 g FORTIGEL® a day for 48 weeks and a control group receiving a placebo. Three MRI scans of the knee were performed on each subject, one at baseline, one at 24 weeks with the final scan at 48 weeks.
The analysis of the cartilage scans revealed a statistically significant increase in proteoglycan density in the medial and lateral tibial regions of the FORTIGEL® treated subjects compared to the placebo group. Results indicate that oral supplementation of FORTIGEL® has a direct impact on human cartilage tissue. This confirms previous experimental data and clearly demonstrates that specific orally administered collagen peptides can have an influence on cartilage tissue regeneration.
University of Freiburg, Germany confirms mobility improvement in young adults
Intention of placebo-controlled, randomized, double-blind, observational trial on 160 subjects at the Institute for Sports and Sports Science, University of Freiburg, Germany was to investigate the effect of orally administered Bioactive Collagen Peptides (BCP®) on young adults suffering from diagnosed activity-related knee joint pain. In the study a daily dosage of 5 g FORTIGEL® or a placebo was orally administered for 12 duration of weeks. After 3, 6, and 12 weeks changes in pain, stiffness and physical function were evaluated in the FORTIGEL® group using the Western Ontario and McMaster Universities Index score (WOMAC)4.
The results of the study clearly demonstrate the efficacy of a daily intake of 5 g FORTIGEL® in the treatment of gon- and coxarthritis. After only 3 weeks of oral administration of the product a statistically significant improvement in pain, stiffness and physical function could be observed. Moreover, this positive effect of FORTIGEL® persisted and was even more pronounced after 6 and 12 weeks of treatment.
In more than 40 % of all patients a complete pain reduction was achieved and in 70 % a positive effect of the therapy could be demonstrated. Thus FORTIGEL® is an effective therapeutic approach for those suffering from knee- and hip conditions.
FORTIBONE
Clinically proven to promote bone health -
A randomized, placebo-controlled, double-blinded study showed the potential of FORTIBONE®. Over a period of 12 months, 180 women with reduced bone mass participated in a therapy with daily intake of 5 g FORTIBONE® or placebo. Changes in bone mass density were measured in the spine and femoral neck of the participants detected by DXA scans.
FORTIBONE® consumption showed a significant improvement of bone density. The results showed a pronounced increase in BMD (Bone Mineral Density) after FORTIBONE® supplementation in women suffering from osteopenia or osteoporosis. The results indicate an anabolic effect. FORTIBONE® is an interesting option to counteract bone degeneration.
VERISOL
Higher skin elasticity
The first study with 69 women aged between 35 and 55 years revealed that VERISOL® leads to significantly higher skin elasticity – up to 15 % – compared to placebo treatment. This effect could be measured after just 4 weeks of treatment and persisted after 8 weeks of oral VERISOL® administration. Another 4 weeks after the last intake of the product, VERISOL® application still showed higher skin elasticity levels than in the placebo treated group.
Oral Supplementation of Specific Collagen Peptides Has Beneficial Effects on Human Skin Physiology: A Double-Blind, Placebo-Controlled Study
Proksch E., Segger D., Degwert J., Schunck M., Zague V., Oesser S. Skin Pharmacol Physiology, August 2013
Reduction of wrinkles
The second study with more than 100 women aged between 45 and 65 years shows that the oral administration of VERISOL® significantly reduces wrinkles after 4 weeks and leads to a significantly higher skin procollagen concentration.
Oral Intake of Specific Bioactive Collagen Peptides Reduces Skin Wrinkles and Increases Dermal Matrix Synthesis
Proksch E., Schunck M., Zague V., Segger D., Degwert J., Oesser S. Skin Pharmacol Physiology, December 2013
Improved skin surface structure and decrease of cellulite
About 85 % of the global female adult population is affected by cellulite (the orange peel appearance of skin). Cellulite is a beauty aspect, not a disease, but many women suffer from this beauty flaw. Cellulite is mainly caused by dermal matrix disturbances, in combination with excess of subcutaneous fat, bulging into the dermis as well as excess of intersistal fluid.
VERISOL® supplementation has beneficial effects on the dermal extracellular matrix of the skin and can help to decrease cellulite. Contrary to current cellulite supplements that mainly address the aspects of excessive fat or microcirculation/drainage, VERISOL® directly stimulates the extracellular matrix formation in skin.
Significant decrease of cellulite score
A double blind, randomized, placebo controlled study with 105 women aged between 25 and 50 years shows that the daily oral intake of VERISOL® significantly decreases the cellulite score. The effect was measured after 3 and 6 months supplementation. VERISOL® has a beneficial effect on skin extracellular matrix and restores the normal structure of the dermis and subcutaneous tissue. VERISOL® supplementation also reduced the waviness of the skin, with first results visible after 3 months, but more pronounced after 6 months. With a daily dose of VERISOL® the appearance of cellulite women with a BMI < 25 was significantly reduced.
As part of the study, changes in the dermal density were investigated. The two ultrasound scans show side by side the skin of a participant in the placebo group compared to the skin of a participant from the VERISOL® group. The increase in elastin and collagen is clearly visible.
JOURNAL OF MEDICINAL FOOD, J Med Food 00 (0) 2015, 1–9, DOI: 10.1089/jmf.2015.0022, Dietary Supplementation with Specific Collagen Peptides Has a Body Mass Index-Dependent Beneficial Effect on Cellulite Morphology
Michael Schunck, 1 Vivian Zague, 2 Steffen Oesser, 1 Ehrhardt Proksch, 3
Promoting growth and health of fingernails
For many women, well-groomed fingernails are an inseparable part of an attractive appearance. But many women suffer from cracked or chipped nails as well as nail peeling and nail roughness. The Bioactive Collagen Peptides (BCP®) VERISOL® can help to improve growth and health of fingernails.
The different positive effects of VERISOL® are shown in a recent study. The study shows a decrease of cracked and/or chipped nails after 2 months of treatment, reaching a decrease of 42 % after 6 months. Compared to the control group, the nail growth speed is increasing. VERISOL® led to a statistically significant improvement in nail growth after 3 months of treatment. At the same time, there's a notable improvement in nail peeling and a clearly decreased nail edge irregularity. 80 % of the patients were completely satisfied and satisfied with VERISOL® treatment. 75 % of the women perceive their nails as longer, 71 % said their nails grew faster and became longer.
Hexsel D, Zague V, Schunck M, Siega C, Camozzato FO, Oesser S. Oral supplementation with specific bioactive collagen peptides improves nail growth and reduces symptoms of brittle nails. J Cosmet Dermatol. 2017;00:1–7. https://doi.org/10.1111/jocd.12393
New randomized, placebo-controlled study shows that supplementation with the specific Bioactive Collagen Peptides (BCP®) VERISOL® can result in improved hair structure, by significantly increasing hair thickness and proliferation of human hair follicle cells.
The study was conducted on 44 healthy women aged between 39 and 75, who each received a daily dose of 2.5 g VERISOL® or placebo for 16 weeks. At the end of the supplementation period, the use of VERISOL® led to a significant increase in hair thickness, whereas a slight decrease was observed in the placebo group. The comparison of the two groups revealed a statistically significant increase in hair thickness in the VERISOL® group compared to placebo, confirming the benefits of VERISOL® to hair thickness, a key aspect of healthy hair appearance.
The in vitro test showed a statistically significant increase of 31% in the proliferation rates of human hair follicle cells after exposure to VERISOL® for 4 hours, compared with the untreated control cells. This suggests a positive effect of VERISOL® on hair metabolism, building on previous data showing Bioactive Collagen Peptides to increase mitochondrial activity of hair follicle cells.