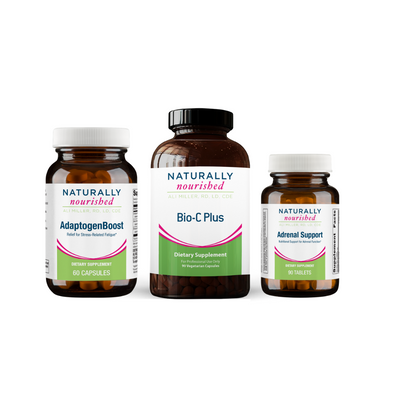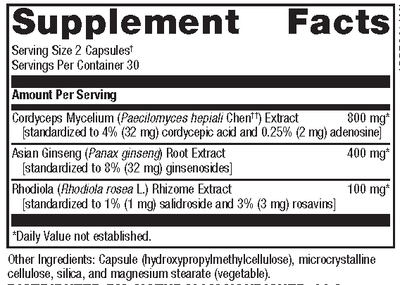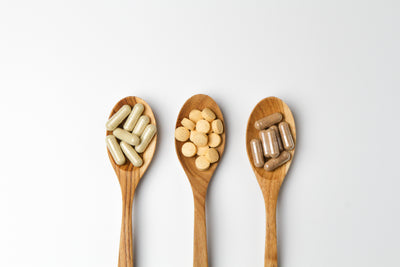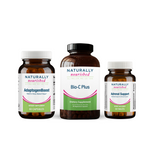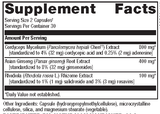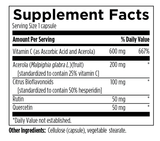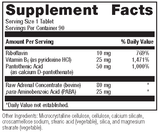 Adrenal Rebound Bundle
Adrenal Support 60 tablets
Adaptogen Boost 60 capsules
Bio-C Plus 90 capsules
Regular price
$101.90
$89.67
Our go-to bundle for adrenal fatigue and supporting individuals feeling stressed and wired or just plain burned out!
FREE shipping on orders over $150
Benefits of Adrenal Rehab
Improved energy
Stress tolerance
Rebounded cortisol and DHEA levels
Reduced allergy and histamine response
How to Take
Adrenal Support 1 with breakfast, 1 with lunch
AdaptogenBoost 1-2 at rise, 1-2 mid-day
Bio-C Plus 1 with breakfast, 1 with lunch
Subscription & Use Tip
Lasts 1-2 months with typical use
Please note: bundles are discounted at 12% to provide you an affordable access point. Additional subscription discounts will not be provided on bundles.
Safety
Safe with breastfeeding

Not recommended during pregnancy
Safe for Kids
Learn more
This product also supports
Energy and Performance Thyroid and Adrenals
Description
Stress can take a toll on your body and over time can lead to fatigue, brain fog, body aches, histamine reactivity, and autoimmune disease. The adrenal glands take much of the hit of stress on your body and can become insufficient if overworked. This pack provides a blend of formulas that support the gland's function while reducing the impact to the gland and aiding in reliance while reducing stress-related fatigue.
Adrenal Support is designed to provide nutritional support for healthy adrenal function by combining high quality raw adrenal concentrate with select B vitamins involved in stress hormone production. Providing glandular compound the adrenal support allows your fatigued glands to rebound with use supporting balanced output of cortisol, DHEA, epinephrine, norepinephrine, and dopamine. Optimized cortisol is essential for management of inflammation, circadian rhythm, sleep and energy cycles, seasonal allergies, and autoimmune disease.
AdaptogenBoost is an herbal formula for stress induced fatigue. It is comprised of adaptogenic herbs designed to build resilience and enhance stamina in individuals who are feeling weak and fatigued due to stress. This formula aids in reducing the impact of stress to the adrenal glands by helping the body respond more directly and providing support for energy. May also support the reduction of stress to the thyroid gland by reducing Reverse T3 as well as belly fat burn and cognitive function.
Bio-C Plus is rich in vitamin C in a whole food form (from a mixture of ascorbic acid and acerola fruit) and plant bioflavonoids (hesperidin, rutin, quercetin and mixed citrus bioflavonoids), known for their immunoprotective properties. The adrenal glands are the most concentrated tissue of vitamin C storage in the body as this nutrient is required in cortisol regulation and stress response. In addition to supporting healthy immune function, these nutrients have been used historically for applications such as maintaining healthy veins, capillaries, skin, hair and nails by supporting normal collagen production and repair.
* These statements have not been evaluated by the Food and Drug Administration. This product is not intended to diagnose, treat, cure or prevent any disease.
Why Naturally Nourished
Potency

Clinical Results

Synergistic Formulas

Third Party Tested

Purity
How to Use
Suggested use:
Adrenal Support 1 with breakfast, 1 with lunch
AdaptogenBoost 1-2 at rise, 1-2 at mid-day based on level of fatigue
Bio-C Plus 1 with breakfast, 1 with lunch (may increase during times of immune stress)
Adrenal Rebound Bundle
Adrenal Support 60 tablets
Adaptogen Boost 60 capsules
Bio-C Plus 90 capsules