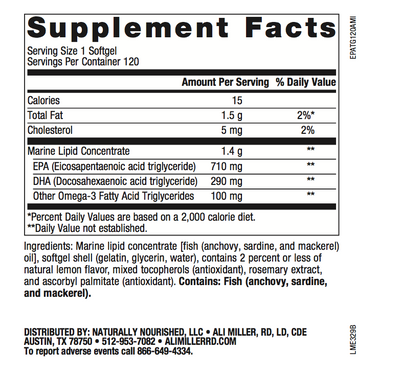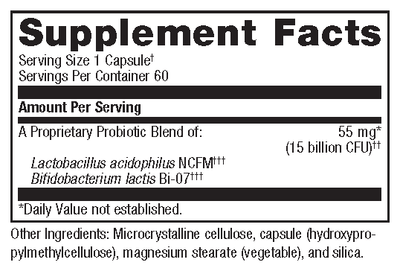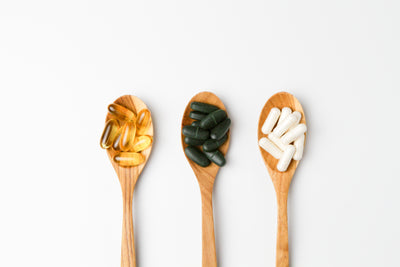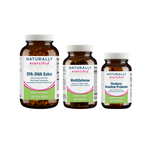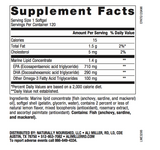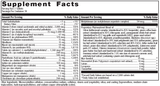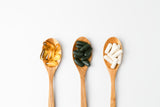 Essential Wellness Bundle
Restore Baseline Probiotic 60 capsules
EPA-DHA Extra 120 softgels
Multi Defense without Iron 60 tablets
Regular price
$160.95
$141.64
For those looking to keep it simple, this bundle contains three essential supplements to cover your nutritional bases and promote optimal health!
FREE shipping on orders over $150
Essential Wellness Bundle Supports:
Micronutrient and antioxidant status
Cardiovascular and metabolic health
Reduction of inflammation
Digestive health
How to Take
Restore Baseline Probiotic 1 at bed
EPA-DHA Extra 1 at breakfast, 1 at dinner
Multi Defense without Iron 1 at breakfast, 1 at dinner
Subscription & Use Tip
Lasts 1 month with typical use
Please note: bundles are discounted at 12% to provide you an affordable access point. Additional subscription discounts will not be provided on bundles.
Safety
Safe with breastfeeding

Safe during pregnancy

Safe for Kids
Learn more
This product also supports
Energy and Performance Immune and Wellness Inflammation & Brain
Description
This bundle offers essentials to cover your nutritional bases, reduce inflammation, promote healthy cellular function, digestive and metabolic health. This pack includes three of the private label items I developed for a successful foundation to wellness with clients in my practice. Whether looking to optimize your real food lifestyle or are just getting started on the supplement game, this bundle has you covered with an antioxidant-packed methylated multivitamin, concentrated fish oil and a high quality probiotic.
Note: This option WITHOUT iron is appropriate for men as well as women who are not menstruating. If menstruating or have known iron deficiency, opt for Multidefense with Iron or the Mama-to-Be Bundle depending on your wellness goals! 
Restore Baseline Probiotic: provides a dairy-free base for a blend of highly viable, pure strains of Lactobacillus and Bifidobacterium the two most researched strains for optimal digestive, immune, and microbiome function. This is our "baseline" formula in the Naturally Nourished clinic to aid in restoring optimal gut health as a foundational ongoing baseline formula.
EPA-DHA Extra: features a concentrated, purified source of omega-3 fatty acids from sustainably sourced, coldwater fish. Each softgel provides a total of 710 mg EPA and 290 mg DHA. Our vendor tests every batch for freshness, microbial contaminants, quality measures, heavy metals, environmental toxins and pesticides. Omega-3 fatty acids can support healthy cardiovascular, immune, and joint pain.
MultiDefense without Iron: takes you beyond basic wellness support. It has a proprietary blend of 13 concentrated extracts and phytonutrients with scientifically tested biological activity to protect your cells and maintain DNA stability—activating your health potential like no other supplement.
* These statements have not been evaluated by the Food and Drug Administration. This product is not intended to diagnose, treat, cure or prevent any disease.
Why Naturally Nourished
Potency

Clinical Results

Synergistic Formulas

Third Party Tested

Purity
Essential Wellness Bundle
Restore Baseline Probiotic 60 capsules
EPA-DHA Extra 120 softgels
Multi Defense without Iron 60 tablets