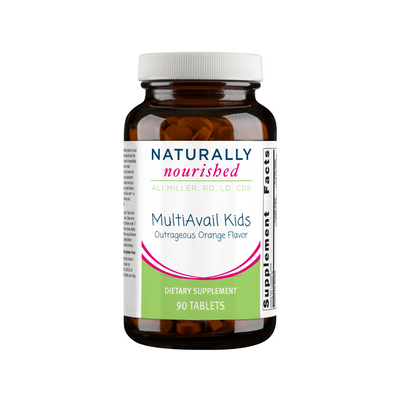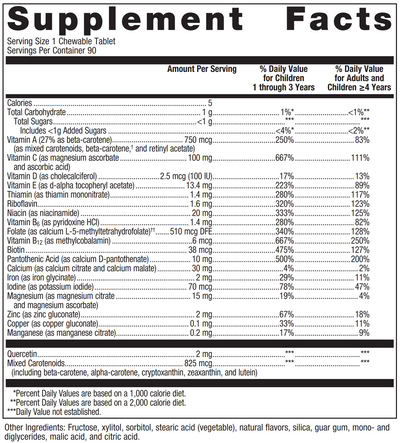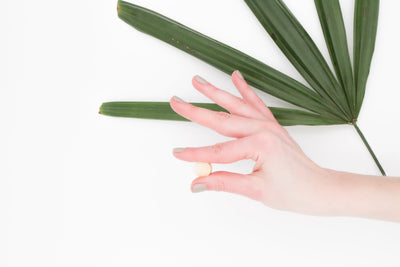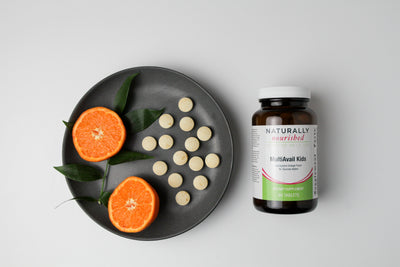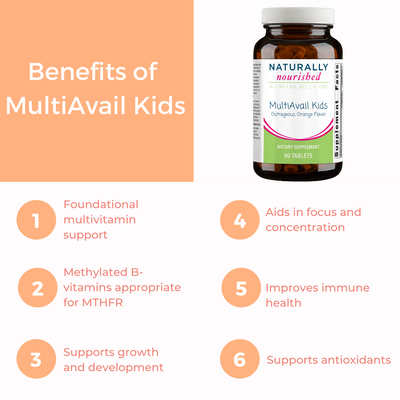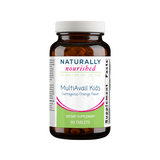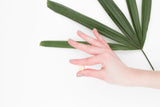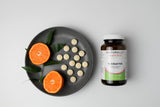 MultiAvail Kids
90 chewable tablets
Potent broad spectrum of essential vitamins and mineral amino acid chelates designed for excellent nutrient absorption in a tasty outrageous orange flavor without the added gunk and sugar of gummies.
FREE shipping on orders over $175
Benefits of MultiAvail Kids:
Great insurance policy for a selective eater
Methylated B-vitamins appropriate for MTHFR
Supports growth and development
Aids in focus and concentration
Immune health
Antioxidant support
How to Take
Children 1 to 2 years: Take one tablet daily, crush if not able to safely chew.
Children 3 to 5 years: Take two tablets daily.
Children 6+ and adults: Take one tablet three times daily or as directed by your healthcare practitioner.
Chew or crush tablets completely before swallowing. Do not swallow tablets whole.
Subscription & Use Tip
Contains 90 chewable tablets which lasts 1-3 months with typical use based on age and weight.

Purchase a bundle and SAVE 12%! This product is also featured in Kids Essentials Bundle
Safety
Safe with breastfeeding

Safe during pregnancy

Safe for Kids
Learn more
This product also supports
Description
MultiAvail Kids is uniquely designed to complement a healthy diet with methylated B-vitamins, bioavailable minerals and a spectrum of antioxidants to activate health potential like no other chewable foundation nutrition formula. Kid-tested and approved, natural tropical citrus fruit flavor that is ideal for toddlers, children, and adults who would rather not swallow tablets or capsules.  
When selecting a multivitamin, always look for:

Methylated forms of B vitamins (those big long words methylcobalamin and l-5-methyltetrahydrofolate)
Chelated minerals that end with -ate for best bioavailability
Phytonutrient compounds from real food forms
Third party assessment for potency and purity so you know that what is listed on the label is what you are actually getting!
Certified gluten-free and non-GMO
*These statements have not been evaluated by the Food and Drug Administration. This product is not intended to diagnose, treat, cure or prevent any disease. 
Why Naturally Nourished
Potency

Clinical Results

Synergistic Formulas

Third Party Tested

Purity
Q&A
The children's chewables we bought are getting black spots on them. Are they molding? Are they safe to eat?
Chewable MultiAvail is described under our quality control team in production as a yellow-beige-speckled tablet. The speckling does become more pronounced over time and is expected especially if the product is opened over a 2 month period of time and worsened if the silica pack or any of the cotton was removed as this can allow moisture or more air in.
The combination of iron with activated B vitamins will create this oxidation effect which although not attractive no concern of harm.
Also all of our products go through QC where we test for mold, impurities, bacteria to ensure both safe and effective.
MultiAvail Kids
90 chewable tablets