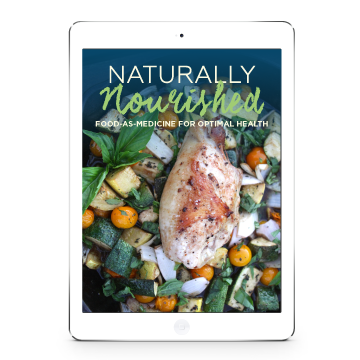 Naturally Nourished: Food-as-Medicine for Optimal Health ebook
ebook
Over 100 Real Food Recipes packed with antioxidants and therapeutic ingredients. Includes 12-week meal plan for weight loss support. Learn more
FREE shipping on orders over $150
Description
Over 100 Real Food Recipes packed with antioxidants and therapeutic ingredients. Includes 12-week meal plan for weight loss support.
The medicinal and clinical powers of natural foods and preventative medicine are well documented; however, the temptation of straying from a nutrition plan is great and unfortunately, all too often compliance can be poor. It is difficult to find a plan that is successful enough to maintain motivation and realistic to stick to for a long-term approach. Naturally Nourished offers you just that in a comprehensive food-as-medicine cookbook with over 100 anti-inflammatory, antioxidant-rich, disease fighting recipes including information on how therapeutic ingredients work in your body, and support on how you can make it all a reality with our 12-week meal planning matrix! In this book, you will be inspired to take back control of your health while learning about how food can function as medicine in your day to day life to drive your health into optimal levels of thriving vs. simply surviving!
This book empowers you to take back control of your health with delicious recipes that motivate and satisfy while emphasizing the use of nature's farmacy through Ali Miller's anti-inflammatory diets that heal the gut, boost metabolism, drive optimal organ function, and promote biochemical balance!
Benefits
This Book Includes
Information on Why Food Matters
The Role of Digestion in Whole Body Health
12-week Meal Plan Calorie and Portions Matrix
Real Food Emphasis
Unique Food-as-Medicine focus per recipe
Low Carb, Paleo, Dairy-free, Egg-free options
100+ Gluten-free, Antioxidant-rich, Anti-inflammatory
Recipes including:
Smoothies
Breakfasts
Salads
Soups
Snacks
Entrees
Veggie sides
Indulgences
Therapeutic Foods
Dressings and Sauces
Testimonials
"This is my kind of cookbook! Ali Miller created a collection of drool-worthy dishes for every occasion that will keep you full, happy, and truly nourished. The best part: She doesn't overcomplicate things. The ingredients are easily-accessible and the recipes are simultaneously adventurous yet unintimidating. My favorite part, though, is that it caters to my inner nutrition nerd–each recipe contains a "food as medicine" tip explaining what key nutrients it contains and just how they optimize your health. This will totally appeal to those of us who need to know we should eat something before we actually eat it! Oh, and the Raw Walnut Fudge is freakin' amazing!"
Naturally Nourished: Food-as-Medicine for Optimal Health ebook
ebook