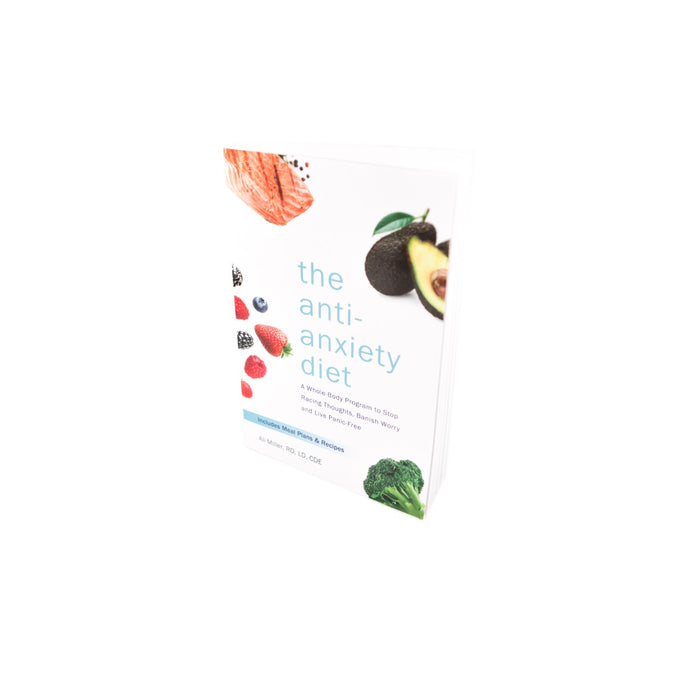 The Anti-Anxiety Diet
Non-fiction book with recipes
International best selling book by food-as-medicine guru Ali Miller RD explores the connection of gut, inflammation, adrenals, hormones, and neurotransmitters on your mood and stress response. Learn more
FREE shipping on orders over $150
The Anti-Anxiety Diet Book Includes:
Research supported approaches to managing anxiety
Leaky Gut Quiz
Bacterial Imbalance Quiz
Supplement Recommendations
Advanced Lab Recommendations
Low Glycemic and Ketosis Exchange List
30+ Recipes
2 Week Meal Plan
Grocery List
BY APPLYING THE ANTI-ANXIETY DIET 6 FOUNDATIONAL RS, YOU CAN:
Remove Inflammatory Foods
Reset Gut Microbiome
Repair GI Lining
Restore Micronutrient Status
Rebound Adrenals
Rebalance Neurotransmitters
Description
Learn to how to use food-as-medicine to calm your thoughts and stop anxiety for good!
Every day, millions of American struggle with debilitating anxiety, which causes not only mental symptoms such as thought rumination, depression, and irritability, but also physical symptoms like digestive distress, shakiness, headaches, weight gain, adrenal or thyroid dysfunction, chronic fatigue, and even autoimmune diseases. Luckily, there is now a scientifically based nutritional way to manage your symptoms and live a healthier, happier, more peaceful life: The Anti-Anxiety Diet.
In this book, registered dietitian and food-as-medicine guru Ali Miller teaches you how to discover and treat the root causes of your body's chemical imbalances using functional medicine approaches. Create your own personalized eating plan from dozens of delicious recipes, including Sweet Potato Avocado Toast, Zesty Creamy Carrot Soup, Almond Collagen Hot Chocolate, Stress Stabilizing Steamer, and more!
By applying The Anti-Anxiety Diet 6 Foundational Rs, you can:
Remove Inflammatory Foods
Reset Gut Microbiome
Repair GI Lining
Restore Micronutrient Status
Rebound Adrenals
Rebalance Neurotransmitters
Benefits
The Anti-Anxiety Diet book includes:
Research supported approaches to each featured R with connection on anxiety
Leaky Gut Quiz
Bacteria Balance Quiz
Adrenal Fatigue Quiz
Supplement recommendations
Advanced lab recommendations
Low Glycemic and Ketosis exchange list
30+ recipes
2 week meal plan
Grocery List
Contents
Why this book?
The Anti-Anxiety Diet program will support mind-body balance that not only promotes relaxation and bliss but also positively influences the biochemical and physiological functions of your body. This program starts with eliminating the top inflammatory foods to support optimal brain health and mood stability. Once inflammation is reduced you will start to reduce carbohydrate intake while increasing fat to benefit from the production of ketones to further enhance neurotransmitter expression and hormonal balance. This program allows you to maintain in a ketogenic state or after the first 3 months, transition into a more liberalized high fat low carb phase. Beyond removal of inflammatory foods and excessive carbohydrates, you will learn about the role of the microbiome and how you can work with it to increase production of serotonin and GABA to support balance and relaxation.
As the gut becomes less inflamed, we will strategically work through repairing the lining of the gut to protect the brain from compounds that can otherwise cross through leaky gut causing dysfunction. As you support gut lining repair, you will in turn increase absorption of vitamins, minerals, and antioxidants with more functional ability and improved digestion. The 6 featured Rs include quizzes, appendix materials, and up-to-date medical citations to ensure you know the best place to focus your energy with strategic dietary and supplemental support. Each foundational chapter closes with supplements that address the concern and food-as-medicine recipes featured.
The 2-week meal plan provided in the Anti-Anxiety Diet, allows you to get a taste for what ketogenic and high fat low carb approaches look like while incorporating recipes with therapeutic ingredients structured to support each foundational R. The Anti-Anxiety Diet will provide you with a plan to nourish your body while satiating cravings and supporting your brain signaling.
Note from Ali
Did you know?
Commonly prescribed anti-anxiety and antidepressant medications are often provided as a first line of defense rather than a last resort and these drugs can drive depletion of nutrients and dependency driving fatigue, sleep disorders, memory problems, weight gain, and often a more severe mood disturbance. Over 40 million Americans deal with anxiety and the use of anti-anxiety and antidepressant drugs is up 65% in the past 15 years.
I created The Anti-Anxiety Diet to be your guide to get you back in the driver's seat of the vehicle of your body. This is the manual to learn how to thrive versus simply survive! When the diet is shifted to that of the anti-anxiety diet protocol, inflammation is reduced, gut integrity is repaired, and nutrients of need are provided in abundance with enhanced absorption. As the body's nutritional status is optimized and stress signals are reduced, the systems that regulate hormones and stress chemicals are able to downshift from high-alert, chronic anxiety to reactive only in times of need. This creates a more even-keeled mood and mental processing with balanced physical responses, which then relaxes the body and gives positive feedback to the mind.
The Anti-Anxiety Diet
Non-fiction book with recipes