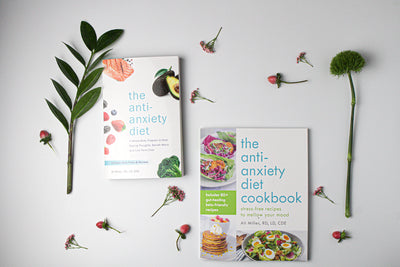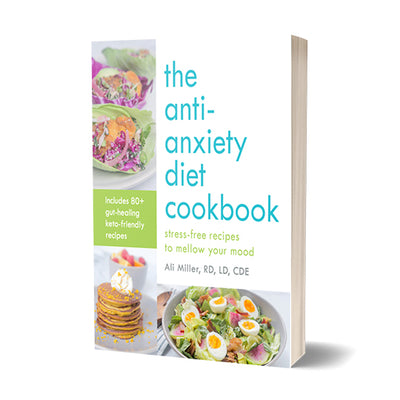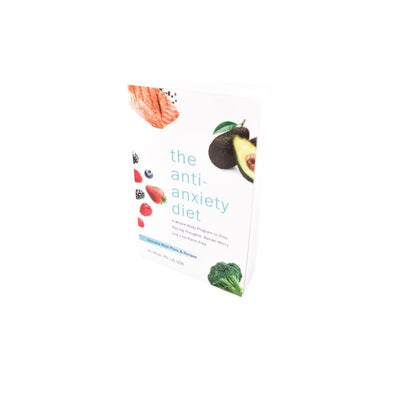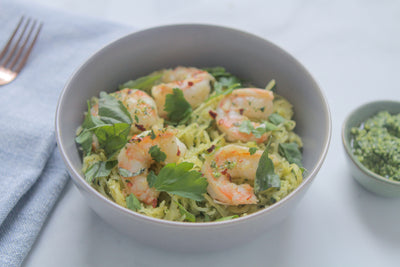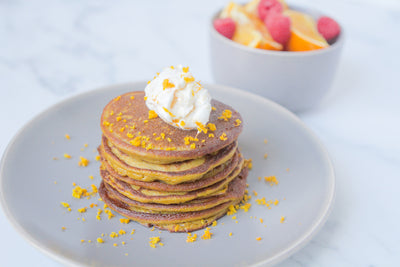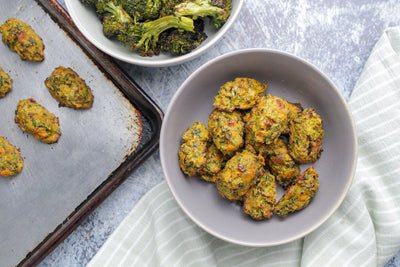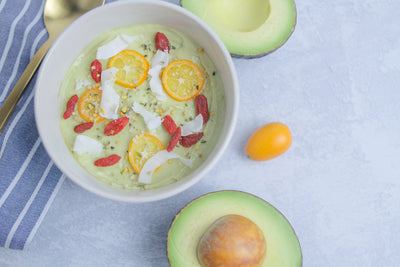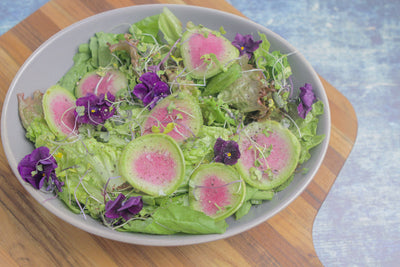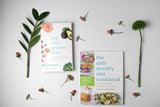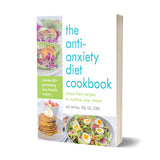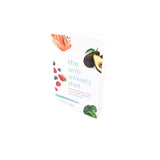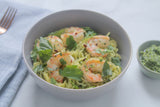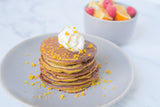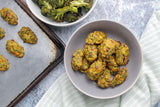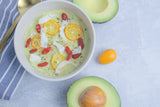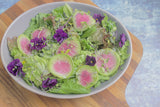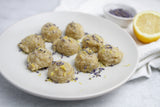 The Anti-Anxiety Diet Book Bundle
2 Book Bundle
Includes The Anti-Anxiety Diet and The Anti-Anxiety Diet Cookbook to mellow your mood and support your food-as-medicine journey!
FREE shipping on orders over $175
80+ Delicious Keto Friendly Recipes Include:
Garlicky Pesto Shrimp on Spaghetti Squash
Broccoli Bacon Sweet Potato Tots
Citrus Pumpkin Pancakes
Avocado Pudding with Coconut and Goji Berries
Farmer's Market Salad with Watermelon Radish
Lemon Lavender CBD Balls
BY APPLYING THE ANTI-ANXIETY DIET 6 FOUNDATIONAL RS, YOU CAN:
Remove Inflammatory Foods
Reset Gut Microbiome
Repair GI Lining
Restore Micronutrient Status
Rebound Adrenals
Rebalance Neurotransmitters
Description
This bundle includes both my best-selling The Anti-Anxiety Diet and The Anti-Anxiety Diet Cookbook to provide you both the science and strategy of using food as medicine to combat anxiety and to get you inspired in the kitchen! 
Learn to how to use food-as-medicine to calm your thoughts and stop anxiety for good!
Every day, millions of American struggle with debilitating anxiety, which causes not only mental symptoms such as thought rumination, depression, and irritability, but also physical symptoms like digestive distress, shakiness, headaches, weight gain, adrenal or thyroid dysfunction, chronic fatigue, and even autoimmune diseases. Luckily, there is now a scientifically based nutritional way to manage your symptoms and live a healthier, happier, more peaceful life: The Anti-Anxiety Diet.
In this book, registered dietitian and food-as-medicine guru Ali Miller teaches you how to discover and treat the root causes of your body's chemical imbalances using functional medicine approaches. Create your own personalized eating plan from dozens of delicious recipes, including Sweet Potato Avocado Toast, Zesty Creamy Carrot Soup, Almond Collagen Hot Chocolate, Stress Stabilizing Steamer, and more!
By applying The Anti-Anxiety Diet 6 Foundational Rs, you can:
Remove Inflammatory Foods
Reset Gut Microbiome
Repair GI Lining
Restore Micronutrient Status
Rebound Adrenals
Rebalance Neurotransmitters
Do you believe in the healing power of food? Are you looking to harness the wild stallion in your brain? Did you know you can use diet to optimize mental health and promote stress resilience? Have you read The Anti-Anxiety Diet and are looking for more?
You may know that the foods you eat play a dynamic role in regulating your mood and mental health. But sticking to an eating plan that reduces inflammation, boosts gut health, and balances stress chemicals can be challenging.
Eating to reduce stress shouldn't cause you more stress, and now, with The Anti-Anxiety Diet Cookbook, it has never been easier. Integrative dietitian and food-as-medicine furu Ali Miller has created over 80 nourishing low-carb recipes to provide your body with the nutrients you need to feel even-keeled and relaxed. Learn how to make delicious, brain boosting dishes for the whole family. 
80+ Delicious Keto-Friendly Recipes Include:
Garlicky Pesto Shrimp on Spaghetti Squash

Broccoli Bacon Sweet Potato Tots

Citrus Pumpkin Pancakes

Avocado Pudding with Coconut and Goji Berries

Farmer's Market Salad with Watermelon Radish 

Lemon Lavender CBD Balls
This book will take your food-as-medicine journey to the next level empowering you on how each recipe provides nutrients that aid in adrenal and thyroid health while mellowing out your mood and supporting stress resilience. 
Testimonials
Great Recipes!
There are several things I like about this cookbook. I have The Anti-Anxiety Diet and there is a lot of information in it. However, if you don't want to read all the details. This cookbook is for you. Not only does it have amazing recipes that are easy to cook, it gives you information about WHY you need to eat real food. Our society is built on processed garbage and chemicals. This cookbook helps you with what to cook and explains information about how to use food as medicine.
If you want a deeper dive after reading the information in the cookbook, I highly recommend the Anti Anxiety Diet book by Ali. She is so knowledgeable and provides a lot of information explaining how our bodies react to the food we eat. If you haven't listened to her Naturally Nourished Podcast, you need to go to the app you use for Podcasts and subscribe now!! — Wendy Wilson
Love it!
This cookbook is incredible! I love the recipes and planned our Christmas dinner and Thanksgiving meals Out of this book. So good! The first two chapters are helpful in understanding the benefits of eating Whole Foods and discovering what works for you and your body. I'm 7 weeks into my healthy lifestyle to rid myself of eczema and Ali and Becki are the first people to have offered me truly helpful advice. I'm so grateful for these two! — Craig Campbell
Great Recipes!
Ali is one of the most knowledgeable individuals in the functional medicine community and I'm really enjoying the recipes in this book. I am not crazy about cooking, but it's more enjoyable when the recipes are solid and the dishes/baked goods come out tasting amazing. I especially love that Ali uses real food (like dates) in desserts instead of sweeteners (stevia, erythritol, etc) that many other cookbook authors rely on. I've had issues with insulin resistance and gave up sugar over a year ago, but I also don't tolerate the natural sweeteners. I feel like sugar and sweeteners were a main culprit in my anxiety. — Michele Burns
Contents
The Anti-Anxiety Diet book includes:
Research supported approaches to each featured R with connection on anxiety
Leaky Gut Quiz
Bacteria Balance Quiz
Adrenal Fatigue Quiz
Supplement recommendations
Advanced lab recommendations
Low Glycemic and Ketosis exchange list
30+ recipes
2 week meal plan
Grocery List
The Anti-Anxiety Diet Cookbook includes:
80+ gluten-free, dairy-free, gut restoring, adrenal supporting recipes! All recipes are comprised of whole food ingredients and free of non-caloric sweeteners while maintaining outcomes in a ketogenic diet.

An emphasis on the impact of cortisol and leptin, primary hormones of stress and satiety, when influencing mood, energy, metabolism, and anxiety. 

Explore a new phase to the ketogenic diet recommended in The Anti-Anxiety Diet, including an emphasis on metabolic flexibility and determining your unique carb needs as well as consideration of carb cycling. 

How to use The Anti-Anxiety Diet for the whole family with a special section devoted to children as a successful intervention for ADHD, behavioral, and mood imbalances. Including child-friendly recipes, shakes, school lunch solutions, and transition steps. 

A kitchen and pantry guide with key prep techniques, grocery lists, and necessary tools, as well as detailed ingredient notes for establishing your food-as-medicine farmacy!

Keto pitfalls and wrong turns to avoid when looking to nourish and provide whole body balance!

4-week meal plan to make it all happen and get you into the rhythm for sustainable results!

Bone broth 5-ways to encourage a variety of ways of getting in this gut restoring superfood.

A micronutrient table to emphasize mood stabilizing minerals, bioavailable B-vitamins, antioxidants, and amino acids with an understanding of how the nutrient works and what food will boost nutrient status.

Note from Ali
Why I created this book:
Commonly prescribed anti-anxiety and antidepressant medications are often provided as a first line of defense rather than a last resort and these drugs can drive depletion of nutrients and dependency driving fatigue, sleep disorders, memory problems, weight gain, and often a more severe mood disturbance. Over 40 million Americans deal with anxiety and the use of anti anxiety and antidepressant drugs is up 65% in the past 15 years.
I created The Anti-Anxiety Diet to be your guide to get you back in the driver's seat of the vehicle of your body. This is the manual to learn how to thrive versus simply survive! When the diet is shifted to that of the anti-anxiety diet protocol, inflammation is reduced, gut integrity is repaired, and nutrients of need are provided in abundance with enhanced absorption. As the body's nutritional status is optimized and stress signals are reduced, the systems that regulate hormones and stress chemicals are able to downshift from high-alert, chronic anxiety to reactive only in times of need. This creates a more even-keeled mood and mental processing with balanced physical responses, which then relaxes the body and gives positive feedback to the mind.
The Anti-Anxiety Diet Cookbook serves as a resource to support the lifestyle and adds emphasis for children as well as metabolic flexibility and the concept of carb cycling with a ketogenic diet. With purchase of the cookbook you also get a download guide which includes grocery list, probiotic challenge
The Anti-Anxiety Diet Cookbook offers 80+ anti-inflammatory recipes free of gluten, dairy, corn, soy, and sugar as well as non-caloric sweeteners for a real food keto approach! From Avocado Coconut Pudding to Citrus Pumpkin Pancakes, Thai Green Curry soup to Crispy Rosemary Chicken with Brussels and Creamy Leeks, Strawberry Pie Protein Bars to Cashew Beet Cheezecake, this book provides all you need to support healthy brain chemistry without complexity making food-as-medicine attainable and delicious!
Beyond pleasing your palate and food cravings, The Anti-Anxiety Diet Cookbook provides supportive materials to better understand nutritional ketosis and how you may determine your best use of her established phase 1 and phase 2 protocols in The Anti-Anxiety Diet as well as guidance on carb cycling for hormone, thyroid, and adrenal balance.
The Anti-Anxiety Diet Book Bundle
2 Book Bundle