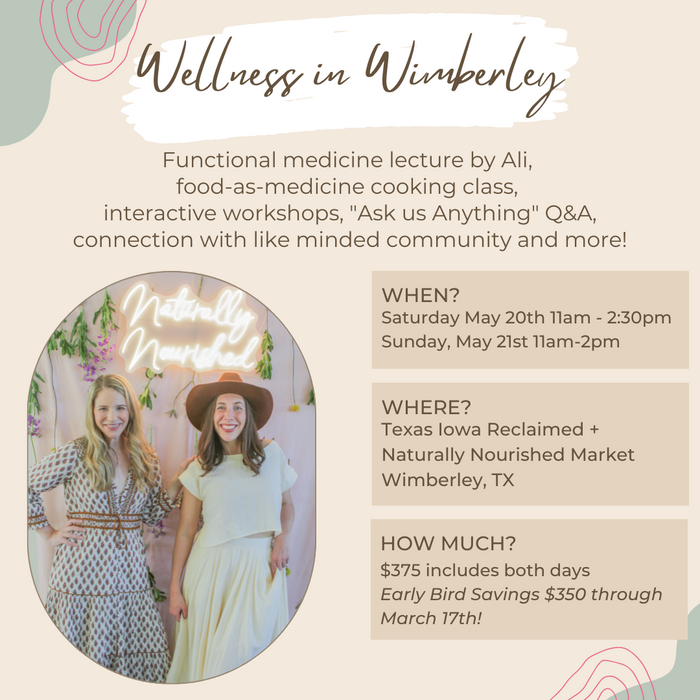 Wellness in Wimberley
FREE shipping on orders over $150
Description
Join us for a weekend in the hill country focused on food-as-medicine and empowerment for whole body health. In this 2 day workshop you will learn about optimal eating with an antiinflammatory diet, the role of blood sugar balance, how stress impacts metabolism, diet, supplement, and lifestyle changes to take your health to the next level.
On Saturday join Ali for a lecture on functional medicine approaches including an interactive hands on breakout session with food and wrapping up with an "Ask us anything" panel with Ali and Becki. Lunch will be catered by Naturally Nourished Market featuring some of Ali's most popular food-as-medicine recipes.
Sunday will be food-focused with a 2.5 hour cooking class and intimate dining experience. Ali and Becki will share tips and tricks on balancing flavors, meal plan prep and weekly flow, troubleshooting bone broth and so much more.  Check out the cooking class menu below.
You will connect with like minded individuals and leave feeling inspired to use food as medicine and establish healthy habits in your household.
Lodging is on your own, you may choose an AirBnB in the hill country, a yurt at Yurtopia here in Wimberley, or you can lodge in Austin which is only 50 minutes away. Lodging, dining, hiking, and shopping guide provided to registrants with all of Ali's favorites. 
End each day with VIP shopping at Naturally Nourished Market to explore Ali's new market featuring Texas ranchers, growers, and artisan goods. 
Bring your bestie, your husband, your coworker, or come solo and make new friends! This weekend workshop is open to all and sure to make a powerful impact on your wellness journey. 
Saturday, May 20th 11am-2:30pm
Sunday, May 21st 11am-2pm
Texas Iowa Reclaimed and Naturally Nourished Market
Address for event: 9315 Ranch Road 12 Wimberley, TX 78676
Event includes:
2 hours of lecture
1 hour of interactive workshop breakouts
2.5 hour cooking class
4 course food-as-medicine lunch each day
Direct access to Ali and Becki for all your burning questions
Connections with like-minded community
Optional morning movement add-on each day
Please note, by purchasing this item you agree to our no refunds, no exchanges, no exceptions policy. 
This event will be photographed and aspects will be recorded via audio and/or video. By purchasing this event, you agree to be photographed and/or filmed. A waiver of release of liability and more details will be provided closer to the event.