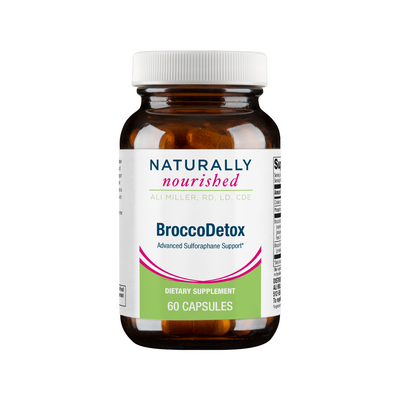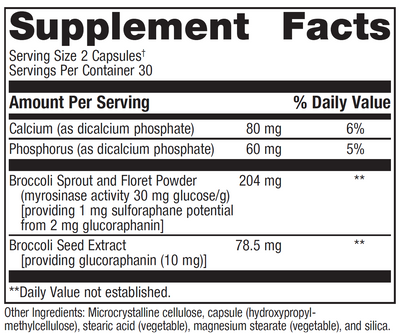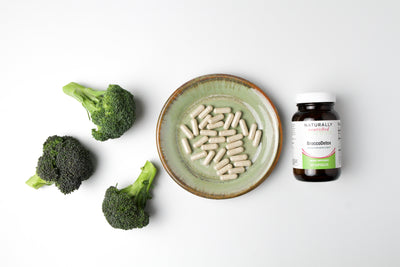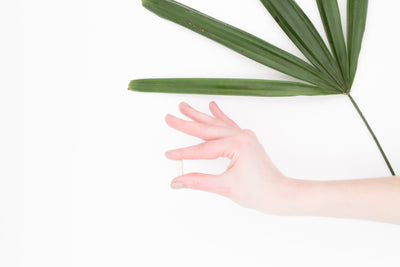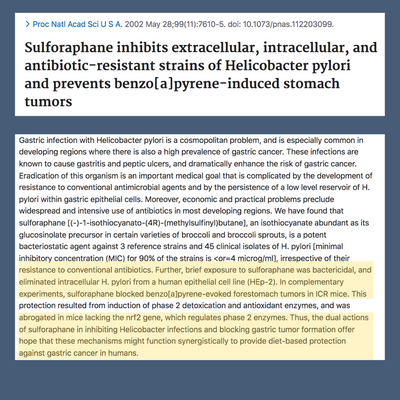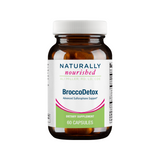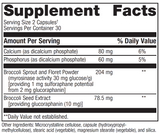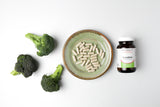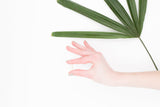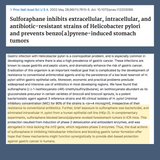 BroccoDetox
60 capsules
Potent antioxidant and detox support of broccoli sprouts synergistically combined with the active enzyme to enhance absorption Learn more
FREE shipping on orders over $150
Benefits of BroccoDetox
Antioxidant support
Estrogen metabolism
Liver health and detox
Antibacterial and H. Pylori inhibition
Vascular health
Chemoprotective for cancer care
How to Take
2 capsules daily with food
Safety
Safe with breastfeeding

Safe during pregnancy

Safe for Kids
Learn more
This product also supports
Detox and Liver Support Hormones and Fertility
What Makes BroccoDetox Superior?
We ensure all our products have the most bioavailable form of ingredients and combine different compounds to get the most powerful effects.
Description
BroccoDetox features Brassinase™‡—a unique combination of broccoli ingredients that supply standardized amounts of glucoraphanin and active myrosinase enzyme to help support sulforaphane production. Sulforaphane is a potent activator of the body's own antioxidant and detoxifying enzymes and is responsible for many positive health benefits associated with broccoli consumption.
* These statements have not been evaluated by the Food and Drug Administration. This product is not intended to diagnose, treat, cure or prevent any disease.
Why Naturally Nourished
Potency

Clinical Results

Synergistic Formulas

Third Party Tested

Purity
Research
References
1. Shapiro, T. A., J. W. Fahey, K. L. Wade, K. K. Stephenson, and P. Talalay. 2001. Chemoprotective
glucosinolates and isothiocyanates of broccoli sprouts: metabolism and excretion in humans. Cancer
Epidemiol. Biomark. Prev. 10:501-508.
2. Talalay, P., Fahey, J.W., Healy, Z.R., Wehage, S.L., Benedict, A.L., Min, C. and DinkovaKostova, A.T.
Sulforaphane Mobilizes Cellular Defenses that Protect Skin against Damage by UV Radiation. Proc. Natl.
Acad. Sci. USA 104, 17500-17505 (2007).
3. Munday, R., Mhawech-Fauceglia, P., Munday, C.M., Paonessa, J.D., Tang, L., Munday, J.S., Lister, C., Wilson, P.,
Fahey, J.W., Davis, W. and Zhang, Y. Inhibition of urinary bladder carcinogenesis by broccoli sprouts. Cancer
Res. 68(5), 1593-600 (2008).
4. Kim, H.-J., Barajas, B., Wang, M. and Nel, A.E. Nrf2 activation by sulforaphane restores the age-related
decrease of TH1 immunity: Role of dendritic cells. The Journal of Allergy and Clinical Immunology DOI:
10.1016/j.jaci.2008.01.016, published on line 6 March 2008.
5. Zhang Y, Talalay P, Cho CG, Posner G. A major inducer of anticarcinogenic protective enzymes from
broccoli: isolation and elucidation of structure. Proc. Natl. Acad. Sci. USA, 1992; Mar 89:2399-2403.
6. Jackson SJ, Singletary KW. Sulforaphane inhibits human MCF-7 mammary cancer cell mitotic progression
and tubulin polymerization. J Nutr. 2004 Sep;134(9):2229-36.[ PMID: 15333709].
7. Chiao JW, Wu H, Ramaswamy G, Conaway CC, Chung FL, Wang L, Lui D. Ingestion of an isothiocyanate
metabolite from cruciferous vegetables inhibits growth of human prostate cancer cell xenographs by
apoptosis and cell cycle arrest. Carcinogenesis 2004; 25(8):1403-1408 [PMID: 15016658].
8. Fahey JW, Haristoy X, Dolan PM, Kensler TW, Scholtus I, Stephenson KK, Talalay P, Lozniewski A.
Sulforaphane inhibits extracellular, intracellular, and antibiotic-resistant strains of Helicobacter pylori and
prevents benzo[a]pyrene-induced stomach tumors. Proc Natl Acad Sci USA. 2002 May 28;99(11):7610-
[PMID: 12032331].
9. Bewley MA, Budd RC, Ryan E, Cole J, Collini P, Marshall J, Kolsum U, Beech G, Emes RD, Tcherniaeva I,
Berbers GAM, Walmsley SR, Donaldson G, Wedzicha JA, Kilty I, Rumsey W, Sanchez Y, Brightling CE,
Donnelly LE, Barnes PJ, Singh D, WhyteMKB, Dockrell DH; COPDMAP. Opsonic Phagocytosis in Chronic
Obstructive Pulmonary Disease is Enhanced by Nrf2 Agonists. Am J Respir Crit Care Med. 2018 Mar 16.
PubMed PMID: 29547002.
10. Sharma C, Sadrieh L, Priyani A, Ahmed M, Hassan AH, Hussain A. Anti-carcinogenic effects of sulforaphane
in association with its apoptosis-inducing and anti-inflammatory properties in human cervical cancer cells.
Cancer Epidemiol. 2011 Jun;35(3):272-8. doi: 10.1016/j.canep.2010.09.008. Epub 2010 Oct 16. PubMed PMID:
20956097.
11. Hussain A, Mohsin J, Prabhu SA, Begum S, Nusri Qel-A, Harish G, Javed E, Khan MA, Sharma C.
Sulforaphane inhibits growth of human breast cancer cells and augments the therapeutic index of the
chemotherapeutic drug, gemcitabine. Asian Pac J Cancer Prev. 2013;14(10):585560. PubMed PMID:
24289589.
12. Choi YJ, Lee WS, Lee EG, Sung MS, Yoo WH. Sulforaphane inhibits IL-1β-induced proliferation of rheumatoid
arthritis synovial fibroblasts and the production of MMPs, COX-2, and PGE2. Inflammation. 2014
Oct;37(5):1496-503. doi: 10.1007/s10753-014-9875-4. PubMed PMID: 24671668.
13. Rudolf K, Cervinka M, Rudolf E. Sulforaphane-induced apoptosis involves p53 and p38 in melanoma cells.
Apoptosis. 2014 Apr;19(4):734-47. doi: 10.1007/s10495-013-0959-7. PubMed PMID: 24375172.
14. Arcidiacono P, Ragonese F, Stabile A, Pistilli A, Kuligina E, Rende M, Bottoni U, Calvieri S, Crisanti A,
Spaccapelo R. Antitumor activity and expression profiles of genes induced by sulforaphane in human
melanoma cells. Eur J Nutr. 2017 Sep 1. doi: 10.1007/s00394-017-1527-7. [Epub ahead of print] PubMed
PMID: 28864908.
15. Ian S, Liu X, Lei P, Zhang X, Shan Y. Microbiota: a mediator to transform glucosinolate precursors in
cruciferous vegetables to the active isothiocyanates.J Sci Food Agric. 2018 Mar;98(4):1255-1260. doi:
10.1002/jsfa.8654. Epub 2017 Oct 9. Review. PubMed PMID: 28869285.
16. Fahey JW, Holtzclaw WD, Wehage SL, Wade KL, Stephenson KK, Talalay P. Sulforaphane Bioavailability
from Glucoraphanin-Rich Broccoli: Control by Active Endogenous Myrosinase. PLoS One. 2015 Nov
2;10(11):e0140963. doi:10.1371/journal.pone.0140963. eCollection 2015. PubMed PMID: 26524341; PubMed
Central PMCID: PMC4629881.
17. Fahey JW, et al. Protection of humans by plant glucosinolates: efficiency of conversion of glucosinolates to
isothiocyanates by the gastrointestinal microflora. Cancer Prev Res (Phila). 2012;5:603-611.
18. Rungapamestry V, Duncan AJ, Fuller Z, Ratcliffe B. Effect of cooking brassica vegetables on the
subsequent hydrolysis and metabolic fate of glucosinolates. Proc Nutr Soc. 2007 Feb;66(1):69-81. Review.
PubMed PMID: 17343774.
19. Briones-Herrera A, Eugenio-Pérez D, Reyes-Ocampo JG, Rivera-Mancía S, Pedraza-Chaverri J. New
highlights on the health-improving effects of sulforaphane. Food Funct. 2018 Apr 27. doi: 10.1039/
c8fo00018b. [Epub ahead of print] Review. PubMed PMID: 29701207.
20. Leone A, Diorio G, Sexton W, Schell M, Alexandrow M, Fahey JW, Kumar NB. Sulforaphane for the
chemoprevention of bladder cancer: molecular mechanism targeted approach. Oncotarget. 2017 May
23;8(21):35412-35424. doi: 10.18632/oncotarget.16015. Review. PubMed PMID: 28423681; PubMed Central
PMCID: PMC5471065.
21. Angulo P, Kaushik G, Subramaniam D, Dandawate P, Neville K, Chastain K, Anant S. Natural compounds
targeting major cell signaling pathways: a novel paradigm for osteosarcoma therapy. J Hematol Oncol.
2017 Jan 7;10(1):10. doi: 10.1186/s13045-016-0373-z. Review. PubMed PMID: 28061797; PubMed Central
PMCID:PMC5219787.
22. Matsui T, Nakamura N, Ojima A, Nishino Y, Yamagishi SI. Sulforaphane reduces advanced glycation end
products (AGEs)-induced inflammation in endothelial cells and rat aorta. Nutr Metab Cardiovasc Dis. 2016
Sep;26(9):797-807. doi 10.1016/j.numecd.2016.04.008. Epub 2016 Apr 21. PubMed PMID: 27212619.
23. Yamagishi S, Matsui T. Protective role of sulphoraphane against vascular complications in diabetes. Pharm
Biol. 2016 Oct;54(10):2329-39. doi:10.3109/13880209.2016.1138314. Epub 2016 Feb 3. Review. PubMed PMID:
26841240.
24. Yin TF, Wang M, Qing Y, Lin YM, Wu D. Research progress on chemopreventive effects of phytochemicals
on colorectal cancer and their mechanisms. World J Gastroenterol. 2016 Aug 21;22(31):7058-68. doi:
10.3748/wjg.v22.i31.7058. Review. PubMed PMID: 27610016; PubMed Central PMCID: PMC4988307.
25. Bai Y, Wang X, Zhao S, Ma C, Cui J, Zheng Y. Sulforaphane Protects against Cardiovascular Disease via Nrf2
Activation. Oxid Med Cell Longev.2015;2015:407580. doi: 10.1155/2015/407580. Epub 2015 Oct 25. Review.
PubMed PMID: 26583056; PubMed Central PMCID: PMC4637098.
26. Traka MH, Melchini A, Mithen RF. Sulforaphane and prostate cancer interception. Drug Discov Today. 2014
Sep;19(9):1488-92. doi: 10.1016/j.drudis.2014.07.007. Epub 2014 Jul 19. Review. PubMed PMID: 25051139.
27. Fimognari C, Turrini E, Sestili P, Calcabrini C, Carulli G, Fontanelli G Rousseau M, CantelliForti G, Hrelia P.
Antileukemic activity of sulforaphane in primary blasts from patients affected by myelo- and lymphoproliferative disorders and in hypoxic conditions. PLoS One. 2014 Jul 14;9(7):e101991. doi:10.1371/journal.
pone.0101991. eCollection 2014. PubMed PMID: 25019218; PubMed Central PMCID: PMC4096754.
28. Fallingborg J. Intraluminal pH of the human gastrointestinal tract. Dan MedBull. 1999 Jun;46(3):183-96.
Review. PubMed PMID: 10421978.
29. Fahey JW, et al. The chemical diversity and distribution of glucosinolates and isothiocyanates among
plants. Phytochemistry. 2001;56:5-51
30. Johnson IT. Glucosinolates: bioavailability and importance to health. Int JVitam Nutr Res. 2002 Jan;72(1):26-
31. Review. PubMed PMID: 11887749.
31. Boddupalli S, Mein JR, Lakkanna S, et al. Induction of phase 2 antioxidant enzymes by broccoli
sulforaphane: perspectives in maintaining the antioxidant activity of vitamins a, C, and e. Front Genet.
2012;3:7. Epub 2012 Jan 24. [PMID: 22303412]
32. Riedl MA, Saxon A, Diaz-Sanchez D. Oral sulforaphane increases Phase II antioxidant enzymes in the human
upper airway. Clin Immunol. 2009 Mar;130(3):244-51. [PMID: 19028145]
33. Yanaka A, Fahey JW, Fukumoto A, et al. Dietary sulforaphane-rich broccoli sprouts reduce colonization
and attenuate gastritis in Helicobacter pylori-infected mice and humans. Cancer Prev Res (Phila). 2009
Apr;2(4):353-60. [PMID: 19349290]
34. Gao X, Talalay P. Induction of phase 2 genes by sulforaphane protects retinal pigment epithelial cells
against photooxidative damage. Proc Natl Acad Sci USA. 2004 Jul 13;101(28):10446-51. [PMID: 15229324]
35. Fahey JW, Stephenson KK, Wade KL, Talalay P. Urease from Helicobacter pylori is inactivated by
sulforaphane and other isothiocyanates. Biochem Biophys Res Commun. 2013 May 24;435(1):1-7.
doi: 10.1016/j.bbrc.2013.03.126. Epub 2013 Apr 11. PubMed PMID: 23583386; PubMed Central PMCID:
PMC4618678.
36. Tarozzi A, Angeloni C, Malaguti M, Morroni F, Hrelia S, Hrelia P. Sulforaphane as a potential protective
phytochemical against neurodegenerative diseases. Oxid Med Cell Longev. 2013;2013:415078. doi:
10.1155/2013/415078. Epub 2013 Jul 25. Review. PubMed PMID: 23983898; PubMed Central PMCID:
PMC3745957.
37. Mahn A, Reyes A. An overview of health-promoting compounds of broccoli (Brassica oleracea var. italica)
and the effect of processing. Food Sci Technol Int. 2012 Dec;18(6):503-14. doi: 10.1177/1082013211433073.
Review. PubMed PMID: 23175779.
38. Sulforophane glucosinolate. Monograph. Altern Med Rev. 2010 Dec;15(4):352- 60. Review. [PMID: 21194251]
39. Kensler TW, Ng D, Carmella SG, Chen M, Jacobson LP, Muñoz A, Egner PA, Chen JG, Qian GS, Chen TY,
Fahey JW, Talalay P, Groopman JD, Yuan JM, Hecht SS. Modulation of the metabolism of airborne pollutants
by glucoraphanin-rich and sulforaphane-rich broccoli sprout beverages in Qidong, China. Carcinogenesis.
2012 Jan;33(1):101-7. doi: 10.1093/carcin/bgr229. Epub 2011 Nov 1. Erratum in: Carcinogenesis. 2012
Mar;33(3):722. PubMed PMID: 22045030; PubMed Central PMCID: PMC3276337.
40. Vermeulen M, Klöpping-Ketelaars IW, van den Berg R, Vaes WH. Bioavailability and kinetics of
sulforaphane in humans after consumption of cooked versus raw broccoli. J Agric Food Chem. 2008 Nov
26;56(22):10505-9. doi: 10.1021/jf801989e. PubMed PMID: 18950181.
41. Seow A, Shi CY, Chung FL, Jiao D, Hankin JH, Lee HP, Coetzee GA, Yu MC. Urinary total isothiocyanate
(ITC) in a population-based sample of middle-aged and older Chinese in Singapore: relationship with
dietary total ITC and glutathione S-transferase M1/T1/P1 genotypes. Cancer Epidemiol Biomarkers Prev.1998
Sep;7(9):775-81. PubMed PMID: 9752985.
42. Davis, F. G., Fischer, M. E., VanHom. L., Mermelstein, R. M., and Sylvester. j. L. Self-reported dietary changes
with respect to American Cancer Society nutrition guidelines (1982-1986). Nutr. Cancer, 20: 241-249, 1993.
43. McNaughton SA, Marks GC. Development of a food composition database for the estimation of dietary
intakes of glucosinolates, the biologically active constituents of cruciferous vegetables. Br J Nutr.
2003;90(3):687-697. (PubMed)
Testimonials