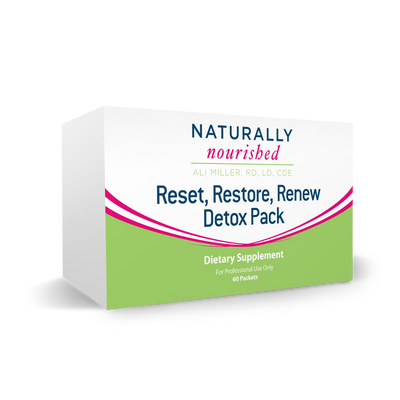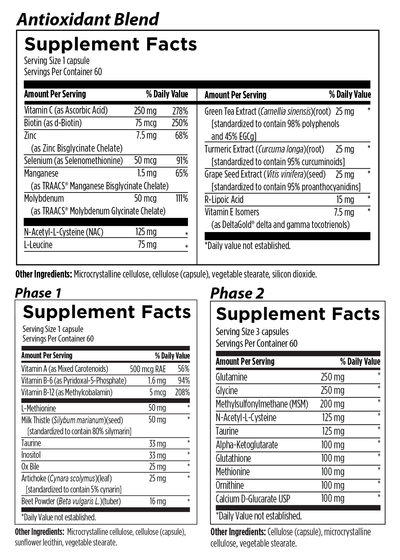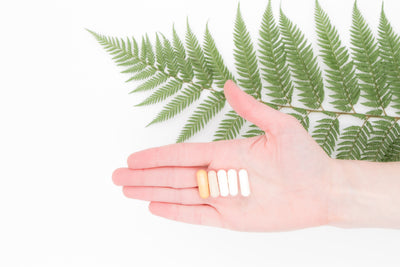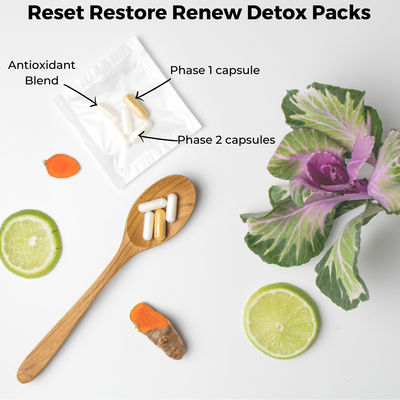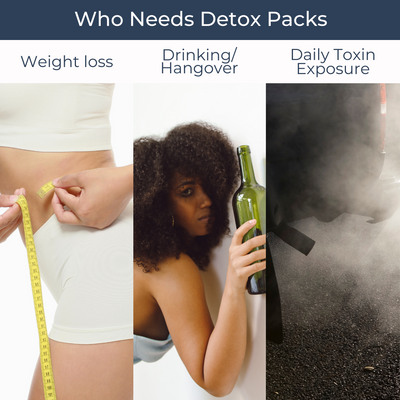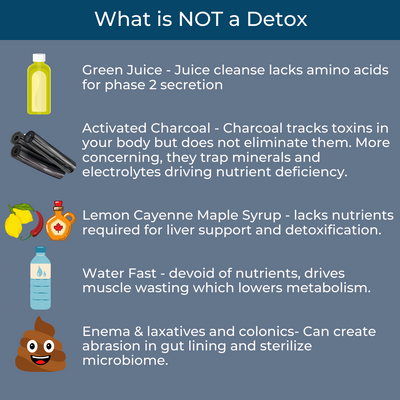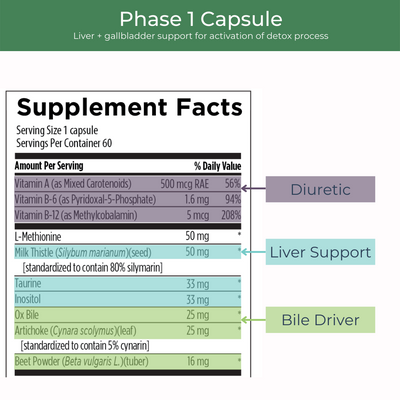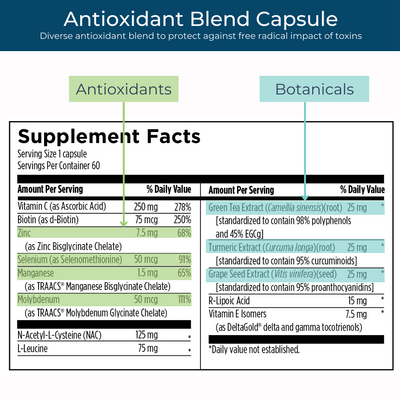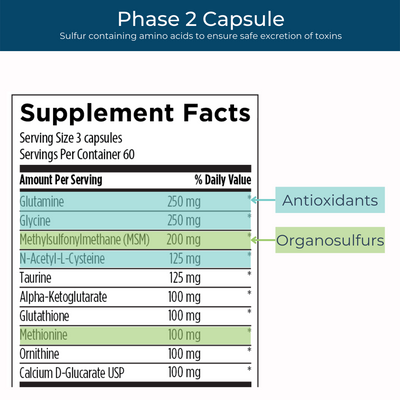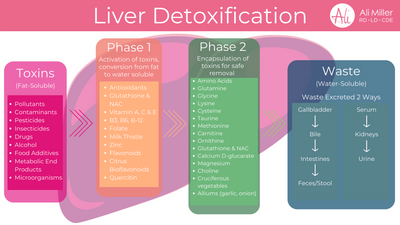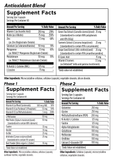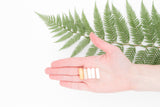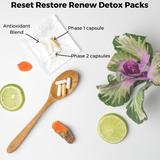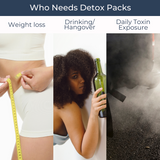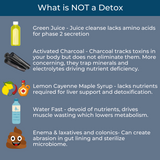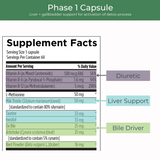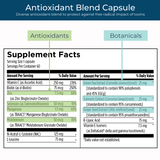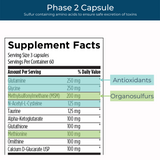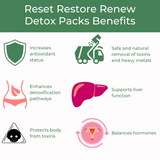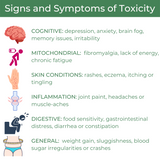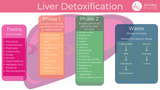 Reset Restore Renew Detox Packs
60 packs of 5 pills each
Reset your Metabolism, Restore your Digestion and Renew your Vitality with our Detox Support Packs that provide antioxidants, liver and gallbladder support, sulfur-containing amino acids, and botanicals. Learn more
FREE shipping on orders over $150
Benefits of Reset, Restore, Renew Detox Packs:
Increased antioxidant status
Enhanced detoxification pathways
Protects body from toxins
Safe and natural removal of toxins and heavy metals
Liver support
Hormone balance
How to Take
1 pack daily for wellness support
1 pack at rise and 1 at bed daily for the 10-day detox protocol increasing to add a third pack mid-day on days 5-8
Subscription & Use Tip
Contains 60 packs, enough for 2 months as daily use or for two people to do a 10-Day Detox.

Note: Occasional use of detox packs when breastfeeding to offset lifestyle toxins such as alcohol, hair coloring, travel, etc. would be appropriate but daily use or doing a 10-day detox would not be recommended for breastfeeding moms.

Purchase a bundle and SAVE 12%! This product is also featured in Detox and Defend Bundle
Safety
Safe with breastfeeding

Not recommended during pregnancy
Safe for Kids
Learn more
This product also supports
Detox and Liver Support
What Makes Reset Restore Renew Detox Packs Superior?
We ensure all our products have the most bioavailable form of ingredients and combine different compounds to get the most powerful effects.
Description
Reset Restore Renew Detox Packs serve to Reset your Metabolism, Restore your Digestion and Renew your Vitality with our Detox Support Packs. This product goes hand in hand with the Rest Restore Renew Real Food Detox Virtual Class. 
What's included in each pack:
Antioxidant Blend to protect your body during toxin release and promote anti-aging support (1 capsule)
Phase 1 Supplement to provide liver and gallbladder support as well as bile flow in trapping toxins and supporting conversion of fat soluble toxins to water solubility (1 capsule)
Phase 2 Supplement to provide sulfur containing amino acids to promote excretion of toxins, reduction of toxic by-products, improved muscle and nerve function (3 capsules)
* These statements have not been evaluated by the Food and Drug Administration. This product is not intended to diagnose, treat, cure or prevent any disease.
We recommend using these detox packs in conjunction with my 10 Day Real Food Detox Program which contains my detox protocol, recipes, grocery list and more! 
Why Naturally Nourished
Potency

Clinical Results

Synergistic Formulas

Third Party Tested

Purity
Benefits
How detoxification works
We can think of the liver like a factory with two shifts. The first shift (Phase I) receives raw materials, processes them, and sends them on to the second shift (Phase II). However, some of the products that pass through the first shift are more harmful than the raw materials they started out as. So the second shift, or Phase II, needs to be functioning optimally in order to quickly get rid of these new, more damaging substances. If the liver's detoxification pathways become overwhelmed, this can lead to an unwanted build-up of toxins in the body.
The unique blend of nutrients in the Reset, Restore, Renew Detox packs is specifically designed to support Phase II actions at dominance with 3 capsules of Ultimate Detox, along with one Phase 1 liver-gallbladder supportive blend, and 1 antioxidant blend ensuring Phase II is primed to function efficiently without excessive ramping up Phase I.

Highlights
• Taurine, methionine, MSM, & N-Acetyl-Cysteine (NAC): sulfur-containing amino acids and compounds,
which support the sulfation pathway of detoxification. Think of sulfur as an 'escort' the liver uses to tag
certain toxins for removal from the body. This pathway requires sufficient sulfur to function optimally.
• Glutathione: the body's master antioxidant and free-radical scavenger, aided by glutamine & NAC
• Calcium-D-Glucarate: supports the glucuronidation pathway and inhibits an enzyme that can undo Phase
II detoxification in the colon. Glucuronic acid, which is part of this pathway, is another of the liver's escort
molecules that binds to toxins and aids in their excretion.
• Vitamins C and E are two chief antioxidant vitamins that function
synergistically to protect cell membranes and DNA from the
damaging effects of toxins and heavy metals.
• Alpha Lipoic Acid regenerates vitamins C and E to prolong their activity. It also supplies sulfur molecules,
which support both phases of liver detoxification.
• N-Acetyl-Cysteine (NAC) is a foundational precursor to glutathione and helps to boost the detoxification and
elimination of mercury.
• Selenium, L-leucine & NAC help to protect the central nervous system from potential mercury build-up by
preventing its absorption and aiding in its excretion.
• Chelated minerals bound to methionine support the removal of heavy metals and provide important cofactors
for phase 2 liver detoxification, where the liver cells add another substance to a toxin to render it less harmful.
• Grape seed extract and green tea extract are potent antioxidants also known for their ability to protect
against heavy metal build-up.
• Curcumin is not only a powerful antioxidant, but it also enhances the absorption and antioxidant activity of
green tea extract.
Liver support
Methionine, vitamins B12 and B6 support methylation reactions critical for effective detoxification while methionine, vitamin B6 and artichoke help maintain healthy glutathione status.1
Additionally, as vitamin A precursors, the mixed carotenoids in this product, along with artichoke leaf extract, may induce sulfotransferase enzymes needed for detoxification and contains the sulfur-containing amino acid taurine, which is crucial for phase II conjugation.
Milk thistle (Silybum marianum) is one of the most well-researched protective herbs for hepatocytes and has even
demonstrated the ability to promote the regeneration of liver cells in subjects with hepatitis and other liver disorders,
possibly owing to increased hepatocyte protein synthesis.(2,3) Milk thistle has also been shown to protect against liver
cell injury from ethanol, acetaminophen, carbon tetrachloride or iron overload, and it inhibits the lipoxygenase enzyme,
giving it antioxidant and anti-lipid peroxidation effects.(3,4) Additional effects include aiding in bile flow, protecting against
fibrosis, reducing the production of inflammatory cytokines, and potentially increasing insulin sensitivity.(5)
Inositol is another beneficial compound for the liver. Rodent models of non-alcoholic fatty liver disease (NAFLD)
induced via a high-fructose diet show that inositol supplementation helps reduce the buildup of liver fat and expression
of genes related to fatty acid synthesis.6 Rodent models of type 2 diabetes indicate that inositol supplementation (along
with inositol hexaphosphate) increases liver reduced glutathione levels and reduces liver triglyceride accumulation and
serum alkaline phosphatase activity while significantly increasing hepatic superoxide dismutase and catalase activity,
resulting in the preservation of liver cell integrity and improved antioxidant status.(7)
Artichoke (Cynara scolymus) has been found to enhance glutathione peroxidase activity and decrease production of
reactive oxygen species. In a randomized, placebo-controlled trial, patients with non-alcoholic steatohepatitis (NASH)
treated with artichoke extract showed significant reductions in serum AST and ALT liver enzymes, total cholesterol,
LDL-C, systolic blood pressure and blood glucose levels.8 Like milk thistle, artichoke has been shown to have antioxidant,
choleretic and hepatoprotective properties and to potentially aid in the regeneration of liver cells.9
Beetroot (Beta vulgaris) is a valuable source of betaine (trimethylglycine), which can act to reduce fatty infiltration
and degeneration of the liver, as well as help to thin the bile for improved gallbladder function.10,11 Rodent models of
chemically-induced liver injury show that beetroot extract attenuates oxidative stress, inflammation and apoptosis
in hepatocytes, increases levels of glutathione and other antioxidant enzymes, and attenuates the increase in lipid
peroxidation, nitric oxide synthesis and pro-inflammatory cytokines seen in rodents not treated with beetroot.12,13
Research in human liver cell lines in vitro suggests that betanin, a major component of beetroot, is responsible for some
of the hepatoprotective effects by activating the nuclear factor erythroid-2-related factor 2 (Nrf2)-antioxidant response
element (ARE) pathway.
How to Use
Detox packs can be used within the 10-day Detox protocol which is 1 at rise, 1 at rest daily with an add of a third pack on days 5-8. Some people like to extend to a 21 day detox taking a pack at rise and at bed, adding a third pack for 10 days in the middle.
Detox packs can be used daily 1 at bed to aid with estrogen dominance, detoxification post gut cleanse, lifestyle toxin factors and support of antioxidant status.
You may use the Detox packs to aid in making your body more resilient to lifestyle choices such as alcohol, eating off plan, or getting hair colored, nails done, flying or exposure to other industrialized toxins. In these cases take 1 pack at rise and 1 pack at bed. Remember the Detox pack is an insurance policy not a permission slip to release all control!
Note: Occasional use of detox packs when breastfeeding to offset lifestyle toxins such as alcohol, hair coloring, travel, etc. would be appropriate but daily use or doing a 10-day detox would not be recommended for breastfeeding moms. A true detox liberates toxins that would pass through breastmilk and stress baby but if already stressing baby with lifestyle, pulsing in a pack here and there would likely be appropriate, but as always, consult with your healthcare practitioner or midwife.
Research
Ruttkay-Nedecky B, Nejdl L, Gumulec J, et al. The role of metallothionein in oxidative stress. Int J Mol Sci.
2013;14(3):6044–6066. Published 2013 Mar 15. doi:10.3390/ijms14036044.
2. Cai L, Klein JB, Kang YJ. Metallothionein inhibits peroxynitrite-induced DNA and lipoprotein damage. J Biol Chem.
2000 Dec 15;275(50):38957-60. DOI: 10.1074/jbc.C000593200.
3. Patrick L. Toxic metals and antioxidants: Part II. The role of antioxidants in arsenic and cadmium toxicity. Altern Med
Rev. 2003 May;8(2):106-28.
4. Rochette L, Ghibu S, Richard C, Zeller M, Cottin Y, Vergely C. Direct and indirect antioxidant properties of α-lipoic
acid and therapeutic potential. Mol Nutr Food Res. 2013 Jan;57(1):114-25.
5. Gorąca A, Huk-Kolega H, Piechota A, Kleniewska P, Ciejka E, Skibska B. Lipoic acid - biological activity and
therapeutic potential. Pharmacol Rep. 2011;63(4):849-58.
6. Packer L, Witt EH, Tritschler HJ. Alpha-Lipoic acid as a biological antioxidant. Free Radic Biol Med. 1995
Aug;19(2):227-50.
7. Biewenga GP, Haenen GR, Bast A. The pharmacology of the antioxidant lipoic acid. Gen Pharmacol. 1997
Sep;29(3):315-31.
8. Zempleni J, Trusty TA, Mock DM. Lipoic acid reduces the activities of biotin-dependent carboxylases in rat liver. J
Nutr. 1997 Sep;127(9):1776-81. DOI: 10.1093/jn/127.9.1776.
9. Zempleni J, Mock DM. Biotin biochemistry and human requirements. J Nutr Biochem. 1999 Mar;10(3):128-38. J Nutr
Biochem. 1999 Mar;10(3):128-38.
10. Oregon State University. Linus Pauling Institute Micronutrient Information Center. Selenium. https://lpi.oregonstate.
edu/mic/minerals/selenium. Accessed Oct 7, 2019.
11. Lubos E, Loscalzo J, Handy DE. Glutathione peroxidase-1 in health and disease: from molecular mechanisms to
therapeutic opportunities. Antioxid Redox Signal. 2011;15(7):1957–1997. doi:10.1089/ars.2010.3586.
12. Spiller HA. Rethinking mercury: the role of selenium in the pathophysiology of mercury toxicity. Clin Toxicol (Phila).
2018 May;56(5):313-326. doi: 10.1080/15563650.2017.1400555.
13. Ralston NV, Raymond LJ. Dietary selenium's protective effects against methylmercury toxicity. Toxicology. 2010 Nov
28;278(1):112-23. doi: 10.1016/j.tox.2010.06.004.
14. Falnoga I, Tusek-Znidaric M. Selenium-mercury interactions in man and animals. Biol Trace Elem Res. 2007
Dec;119(3):212-20. DOI: 10.1007/s12011-007-8009-3.
15. Berry MJ, Ralston NV. Mercury toxicity and the mitigating role of selenium. Ecohealth. 2008 Dec;5(4):456-9. doi:
10.1007/s10393-008-0204-y.
16. Hodges RE, Minich DM. Modulation of Metabolic Detoxification Pathways Using Foods and Food-Derived
Components: A Scientific Review with Clinical Application. J Nutr Metab. 2015;2015:760689. doi:10.1155/2015/760689.
17. Li L, Yang X. The Essential Element Manganese, Oxidative Stress, and Metabolic Diseases: Links and Interactions.
Oxid Med Cell Longev. 2018;2018:7580707. Published 2018 Apr 5. doi:10.1155/2018/7580707.
18. Holley AK, Bakthavatchalu V, Velez-Roman JM, St Clair DK. Manganese superoxide dismutase: guardian of the
powerhouse. Int J Mol Sci. 2011;12(10):7114–7162. doi:10.3390/ijms12107114.
19. Oregon State University. Linus Pauling Institute Micronutrient Information Center. Manganese. https://lpi.oregonstate.
edu/mic/minerals/manganese. Accessed Oct 7, 2019.
20. Zimmermann M. Burgerstein's Handbook of Nutrition. Thieme. New York. 2001. p72.
21. Dalvie D, Di L. Aldehyde oxidase and its role as a drug metabolizing enzyme. Pharmacol Ther. 2019 Sep;201:137-180.
doi: 10.1016/j.pharmthera.2019.05.011.
22. Montefiori M, Jørgensen FS, Olsen L. Aldehyde Oxidase: Reaction Mechanism and Prediction of Site of Metabolism.
ACS Omega. 2017;2(8):4237–4244. doi:10.1021/acsomega.7b00658.
Detox Antiox™
To contact Designs for Health, please call us at (860) 623-6314, or visit us on the web at www.designsforhealth.com.
®™ © 2019 Designs for Health, Inc.
23. Ranguelova K, Bonini MG, Mason RP. (Bi)sulfite oxidation by copper, zinc-superoxide dismutase: Sulfite-derived,
radical-initiated protein radical formation. Environ Health Perspect. 2010;118(7):970–975. doi:10.1289/ehp.0901533
24. Tutuncu B, Kuçukatay V, Arslan S, Sahin B, Semiz A, Sen A. Alteration of drug metabolizing enzymes in sulphite
oxidase deficiency. J Clin Biochem Nutr. 2012;51(1):50–54. doi:10.3164/jcbn.11-79.
25. Steriti R. Sulfite Sensitivity. 2012. https://pdfs.semanticscholar.org/28b8/c883898be98c24dd5889d35563c1b72ffa4b.
pdf. Accessed Oct 7, 2019.
26. Ma Q. Role of nrf2 in oxidative stress and toxicity. Annu Rev Pharmacol Toxicol. 2013;53:401–426. doi:10.1146/annurevpharmtox-011112-140320.
27. Paladino S, Conte A, Caggiano R, Pierantoni G, M, Faraonio R: Nrf2 Pathway in Age-Related Neurological Disorders:
Insights into MicroRNAs. Cell Physiol Biochem 2018;47:1951-1976. doi: 10.1159/000491465.
28. Gould RL, Pazdro R. Impact of Supplementary Amino Acids, Micronutrients, and Overall Diet on Glutathione
Homeostasis. Nutrients. 2019;11(5):1056. doi:10.3390/nu11051056.
29. Oregon State University. Linus Pauling Institute Micronutrient Information Center. Vitamin E. https://lpi.oregonstate.
edu/mic/vitamins/vitamin-E. Accessed Oct 7, 2019.
30. Karajibani M, Hashemi M, Montazerifar F, Dikshit M. Effect of vitamin E and C supplements on antioxidant defense
system in cardiovascular disease patients in Zahedan, southeast Iran. J Nutr Sci Vitaminol (Tokyo). 2010;56(6):436-
40. DOI: 10.3177/jnsv.56.436.
31. Songsermsakul P, Pornphairin E, Porasuphatana S. Comparison of Antioxidant Activity of Grape Seed Extract and
Fruits Containing High -Carotene, Vitamin C, and E. International Journal of Food Properties. Vol 16, 2013. Issue 3.
32. Fine AM. Oligomeric proanthocyanidin complexes: history, structure, and phytopharmaceutical applications. Altern
Med Rev. 2000 Apr;5(2):144-51.
33. Nazima B, Manoharan V, Miltonprabu S. Grape seed proanthocyanidins ameliorates cadmium-induced renal injury
and oxidative stress in experimental rats through the up-regulation of nuclear related factor 2 and antioxidant
responsive elements. Biochem Cell Biol. 2015 Jun;93(3):210-26. doi: 10.1139/bcb-2014-0114.
34. Alkhedaide A, Alshehri ZS, Sabry A, Abdel-Ghaffar T, Soliman MM, Attia H. Protective effect of grape seed extract
against cadmium-induced testicular dysfunction. Mol Med Rep. 2016;13(4):3101–3109. doi:10.3892/mmr.2016.4928.
35. El-Tarras Ael-S, Attia HF, Soliman MM, El Awady MA, Amin AA. Neuroprotective effect of grape seed
extract against cadmium toxicity in male albino rats. Int J Immunopathol Pharmacol. 2016;29(3):398–407.
doi:10.1177/0394632016651447.
36. Liu W, Xu C, Sun X, et al. Grape seed proanthocyanidin extract protects against perfluorooctanoic acid-induced
hepatotoxicity by attenuating inflammatory response, oxidative stress and apoptosis in mice. Toxicol Res (Camb).
2015;5(1):224–234. doi:10.1039/c5tx00260e.
37. U.S. National Library of Medicine. National Center for Biotechnology Information. Perfluorooctanoic acid. https://
pubchem.ncbi.nlm.nih.gov/compound/Perfluorooctanoic-acid. Accessed Oct 7, 2019.
38. Kerksick C, Willoughby D. The antioxidant role of glutathione and N-acetyl-cysteine supplements and exerciseinduced oxidative stress. J Int Soc Sports Nutr. 2005;2(2):38–44. doi:10.1186/1550-2783-2-2-38.
39. Šalamon Š, Kramar B, Marolt TP, Poljšak B, Milisav I. Medical and Dietary Uses of N-Acetylcysteine. Antioxidants
(Basel). 2019;8(5):111. doi:10.3390/antiox8050111
40. Quig D. Cysteine metabolism and metal toxicity. Altern Med Rev. 1998 Aug;3(4):262-70.1. Hodges RE, Minich DM. Modulation of Metabolic Detoxification Pathways Using Foods and Food-Derived Components: A
Scientific Review with Clinical Application. J Nutr Metab. 2015;2015:760689. doi:10.1155/2015/760689.
2. Vargas-Mendoza, N., Madrigal-Santillán, E., Morales-González, A., Esquivel-Soto, J., Esquivel-Chirino, C., García-Luna Y
González-Rubio, M., … Morales-González, J. A. (2014). Hepatoprotective effect of silymarin. World Journal of Hepatology, 6(3),
144–149. DOI:10.4254/wjh.v6.i3.144.
3. Luper S. A review of plants used in the treatment of liver disease: part 1. Altern Med Rev. 1998 Dec;3(6):410-21.
4. Abenavoli L, Capasso R, Milic N, Capasso F. Milk thistle in liver diseases: past, present, future. Phytother Res. 2010
Oct;24(10):1423-32. doi: 10.1002/ptr.3207.
5. Federico A, Dallio M, Loguercio C. Silymarin/Silybin and Chronic Liver Disease: A Marriage of Many Years. Molecules.
2017;22(2):191. doi:10.3390/molecules22020191.
6. Shimada M, Ichigo Y, Shirouchi B et al. Treatment with myo-inositol attenuates binding of the carbohydrate-responsive
element-binding protein to the ChREBP-β and FASN genes in rat nonalcoholic fatty liver induced by high-fructose diet. Nutr
Res. 2019 Apr;64:49-55. doi: 10.1016/j.nutres.2019.01.002.
7. Foster SR, Dilworth LL, Thompson RK et al. Effects of combined inositol hexakisphosphate and inositol supplement on
antioxidant activity and metabolic enzymes in the liver of streptozotocin-induced type 2 diabetic rats. Chem Biol Interact.
2017 Sep 25;275:108-115. doi: 10.1016/j.cbi.2017.07.024.
8. Rangboo V, Noroozi M, Zavoshy R, Rezadoost SA, Mohammadpoorasl A. The Effect of Artichoke Leaf Extract on Alanine
Aminotransferase and Aspartate Aminotransferase in the Patients with Nonalcoholic Steatohepatitis. Int J Hepatol.
2016;2016:4030476. doi:10.1155/2016/4030476
9. Ben Salem M, Affes H, Ksouda K et al. Pharmacological Studies of Artichoke Leaf Extract and Their Health Benefits. Plant
Foods Hum Nutr. 2015 Dec;70(4):441-53. doi: 10.1007/s11130-015-0503-8.
10. Čalkić, L. (2019). Phytotherapy and Liver Disease. Liver Cirrhosis - Debates and Current Challenges.: 10.5772/
intechopen.83640. Retrieved from: https://www.intechopen.com/books/liver-cirrhosis-debates-and-current-challenges/
phytotherapy-and-liver-disease
11. Srivastava S, Siddiqi Z., Singh T, Bala L. Beetroot supplementation on non-alcoholic fatty liver disease patients. Current
Research in Nutrition & Food Science, 7(1), 96-101. DOI: http://dx.doi.org/10.12944/CRNFSJ.7.1.10.
12. Albasher G, Almeer R, Al-Otibi FO, Al-Kubaisi N, Mahmoud AM. Ameliorative Effect of Beta vulgaris Root Extract on
Chlorpyrifos-Induced Oxidative Stress, Inflammation and Liver Injury in Rats. Biomolecules. 2019;9(7):261. doi:10.3390/
biom9070261.
13. Krajka-Kuźniak V, Szaefer H, Ignatowicz E et al. Beetroot juice protects against N-nitrosodiethylamine-induced liver injury in
rats. Food Chem Toxicol. 2012 Jun;50(6):2027-33. doi: 10.1016/j.fct.2012.03.062.
14. Krajka-Kuźniak V, Paluszczak J, Szaefer H, Baer-Dubowska W. Betanin, a beetroot component, induces nuclear factor
erythroid-2-related factor 2-mediated expression of detoxifying/antioxidant enzymes in human liver cell lines. Br J Nutr. 2013
Dec;110(12):2138-49. doi: 10.1017/S0007114513001645.
15. Saénz Rodriguez T, García Giménez D, de la Puerta Vázquez R. Choleretic activity and biliary elimination of lipids and bile
acids induced by an artichoke leaf extract in rats. Phytomedicine. 2002 Dec;9(8):687-93.
16. Wegener T, Fintelmann V. Pharmacological properties and therapeutic profile of artichoke (Cynara scolymus L.). Wien Med
Wochenschr. 1999;149(8-10):241-7.
17. Guo J, Gao Y, Cao X, Zhang J, Chen W. Cholesterol-lowing effect of taurine in HepG2 cell. Lipids Health Dis. 2017;16(1):56.
doi:10.1186/s12944-017-0444-3.
18. Murakami S, Fujita M, Nakamura M et al. Taurine ameliorates cholesterol metabolism by stimulating bile acid production in
high-cholesterol-fed rats. Clin Exp Pharmacol Physiol. 2016 Mar;43(3):372-8. doi: 10.1111/1440-1681.12534.
19. Wang DQ, Carey MC. Therapeutic uses of animal biles in traditional Chinese medicine: an ethnopharmacological, biophysical
chemical and medicinal review. World J Gastroenterol. 2014;20(29):9952–9975. doi:10.3748/wjg.v20.i29.9952.
20. Fordtran JS, Bunch F, Davis GR. Ox bile treatment of severe steatorrhea in an ileectomy-ileostomy patient. Gastroenterology.
1982 Mar;82(3):564-8.
21. Gruy-Kapral C, Little KH, Fordtran JS et al. Conjugated bile acid replacement therapy for short-bowel syndrome.
Gastroenterology. 1999 Jan;116(1):15-21. DOI: 10.1016/s0016-5085(99)70223-4.
22. Little KH, Schiller LR, Bilhartz LE, Fordtran JS. Treatment of severe steatorrhea with ox bile in an ileectomy patient with
residual colon. Dig Dis Sci. 1992 Jun;37(6):929-33. DOI: 10.1007/bf01300393.
Reset Restore Renew Detox Packs
60 packs of 5 pills each