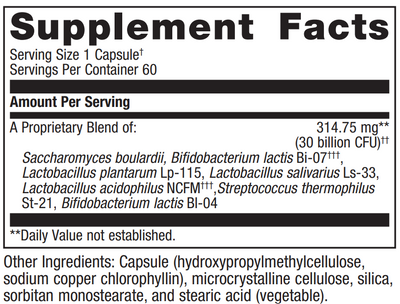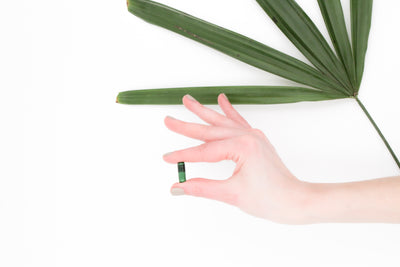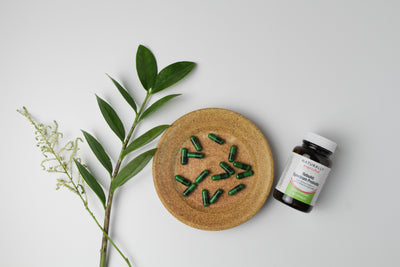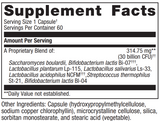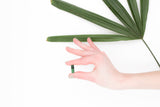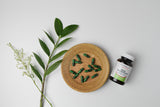 Rebuild Spectrum Probiotic
60 capsules
Multidimensional 7 strain probiotic to support upper and lower GI tract for digestive and immune health. The go-to choice during times of illness, a gut cleanse, or following a course of antibiotics. Learn more
FREE shipping on orders over $150
Benefits of Rebuild Spectrum Probiotic:
S. Boulardii as natural anti-fungal and support for those with history of dysbiosis
Contains strains known to survive stomach acid and exhibit benefits
Reduced bloating
Improved bowel formation and regulation
Supports microbiome balance
Provides gut diversity following sterility
How to Take
Take 1 at rise or rest without food
Safety
Safe with breastfeeding

Safe during pregnancy

Safe for Kids
Learn more
This product also supports
Digestion and Gut Health Immune and Wellness
Description
Rebuild: Spectrum Probiotic provides multidimensional support for both the upper and lower GI tract for digestive and immune health with a "friendly yeast" strain S. Boulardii to aid in prevention of yeast overgrowth.
This concentrated formula supplies a proprietary blend of 7 beneficial probiotic strains including L. acidophilus NCFM®, B. lactis Bi-07, B. lactis Bl-04, L. salivarius Ls-33, and L. plantarum Lp-115. Promotes a healthy intestinal environment and immune response. Helps relieve recurring functional bowel discomforts and intestinal irritation. Contains NCFM®, one of the most well researched probiotic strains. Designed for reliable outcomes with a concentrated dose of S. boulardii. This product is dairy-free and soy-free.
Not sure what probiotic you need? Click to view our handy Probiotic Guide! 
Looking for Value and Results?
Consider upgrading to my Bacterial Rebuild Bundle which saves 12% and is intended for re-inoculation of beneficial bacteria after my Beat the Bloat Candida and Bacterial Cleanse or if dealing with gut sterility. 
* These statements have not been evaluated by the Food and Drug Administration. This product is not intended to diagnose, treat, cure or prevent any disease.
Why Naturally Nourished
Potency

Clinical Results

Synergistic Formulas

Third Party Tested

Purity
Q&A
Should I take a probiotic with antibiotics?
Yes, antibiotics kill off pathogenic bacteria in the body but unfortunately their sterility doesn't discriminate and they can also kill off favorable flora which can set up high risk for overgrowth of yeast or bad bacteria flare which can drive microbiome imbalance and undesired symptoms. Also research supports taking a probiotic when on an antibiotic can reduce GI stress, diarrhea, and mood imbalance.
Rodgers B, Kirley K, Mounsey A. PURLs: prescribing an antibiotic? Pair it with probiotics. J Fam Pract. 2013;62(3):148–150.
I recommend taking a probiotic at least 4 hours separate from your antibiotic dosage and following your antibiotic, it is best to double down on your probiotic for that length of time, meaning if you took a course for 10 days, you'd use your probiotic 1 at bed during those 10 days and then would take 2 at bed following the antibiotic for 10 days.
If you are on antibiotics and you don't want long-term impact on your microbiome, you may consider adding in Restore Baseline Probiotic which is a two-strain 50:50 blend of cultures with flexible dosing that aids in mood stability, bloating, and GI stress. This is used in our Bacteria Rebuild protocol and bundle.
How quickly should it take to experience results?
Some will experience immediate shifts in bloating and bowel regularity or intolerance if in a state of dysbiosis. The shifts you experience are likely based on your foundational microbiome status. The best way to assess efficacy is through doing my Probiotic Challenge to track benefits and changes.
What if I don't tolerate the probiotic?
If you don't tolerate the probiotic, you are likely in the state of dysbiosis and/or you may have histamine intolerance. Consider both the 10-day Detox and Beat the Bloat cleanse as ways to reset your body to aid in tolerance in the future.

How do I know what formula of your probiotic line is best for me?
Great question! The probiotic challenge will help you determine if you'd benefit from Restore Baseline or Targeted Strength more, but we are working on a flow chart to help you determine further! For now, think of the Rebuild Spectrum as a diverse tool for immune and gut reset following antibiotic or gut cleanse. The GI Clean up is a unique probiotic used in active cleanse and for those with stubborn recurring dysbiosis or yeast flare.
I ordered this supplement and it arrived at room temperature or slightly warm, is it still okay to use?
Yes, all the probiotics in our line have guaranteed test confirmed viability of stated billions of colony forming units when stored air tight with temperatures up to 122 degrees. Once you receive it at home you may choose to keep your probiotics refrigerated or in a cool place like your vanity cabinet. I keep them in my bathroom as I have discovered the added obstacle of my kitchen fridge is one way I may miss my probiotic and when removing for travel etc. best to just keep room temp as the changes of cold to room temp over and over can actually breakdown the cellulose capsules more than desired with variance in condensation.
Rebuild Spectrum Probiotic
60 capsules