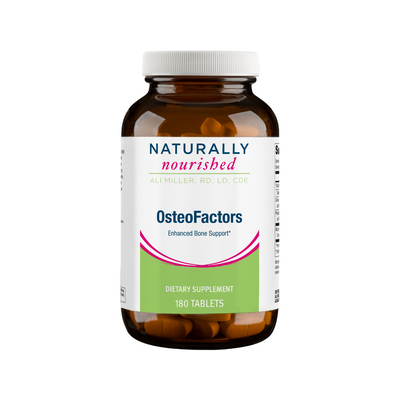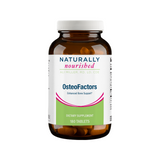 OsteoFactors
180 tablets
Superior bone building formula that provides microcrystalline hydroxyapatite concentrate (MCHC), a highly absorbable crystalline compound that provides everything found in healthy bones including calcium, trace minerals, bone growth factor, collagen, and bone matrix protein backed by more than 30 years of research
Learn more
FREE shipping on orders over $150
Benefits of Osteofactors
Aids in bone growth
Reduces bone loss and bone thinning
Supports demands of growth and repair
Prevention of osteoporosis
Aids in recovery from injury and orthopedic procedures
Provides comprehensive bone matrix including growth factors
How to Take
Take 1 tablet three times daily with meals
Subscription & Use Tip
Each bottle contains 180 tablets which lasts 2 months with recommended use
Safety
Safe with breastfeeding

Safe during pregnancy

Safe for Kids
Learn more
This product also supports
Hormones and Fertility
Description
This superior calcium product provides excellent bone health support with microcrystalline hydroxyapatite concentrate (MCHC), a highly absorbable crystalline compound that provides everything found in healthy bones and is backed by more than 30 years of research. The unique MCHC form of calcium in OsteoFactors contains naturally occurring calcium, phosphorus, and trace amounts of other minerals, bone growth factors, collagen, and other vital bone proteins.
Benefits:
In conjunction with regular exercise and a healthy diet, adequate calcium intake can play a significant role in reducing the rate of bone loss or bone thinning and in protecting bone strength
MCHC as a source of calcium helps support bone mass and slow age-related bone loss
MCHC is an excellent source of bioavailable calcium, as well as a full spectrum of minerals and intact organic factors for comprehensive bone nourishment
Provides convenient dosing with 1,011 mg elemental calcium per 3 tablets
The MCHC in this formula is processed at low temperatures and it is derived from the raw bones of free-range cattle from New Zealand where the cows are raised with no exposure to antibiotics, pesticides, hormones or other toxic chemicals. The low heat extraction and clean sourcing ensures preservation of its full spectrum of nutrients and minerals. This kind of calcium is significantly bioavailable to the body compared to other forms of calcium and as a result is easier to absorb. MCHC has been shown to stop and reverse bone loss in controlled human clinical trials.
*These statements have not been evaluated by the Food and Drug Administration. This product is not intended to diagnose, treat, cure or prevent any disease.

Why Naturally Nourished
Potency

Clinical Results

Synergistic Formulas

Third Party Tested

Purity
How to Use
If needed it is ok to cut this tablet if needed for swallowing. If you have a good source of calcium in the diet daily such as greek yogurt, you may choose to reduce dosage to 1 tablet twice daily however if dealing with osteopenia or osteoporosis the full dosage is recommended.
Research
References
1. Hurford, D. AgResearch Dairy Science and Technology. Client Report – CR-0701. July 2007, Hamilton, New Zealand.
2. Rosenberg nee Goldner T. Method for processing ossein-hydroxyapatite compound. U.S. Patent Number 4,919,931. April 24, 1990.
3. Mills TJ, Davis H, Broadhurst BW. The use of a whole bone extract in the treatment of fractures. Manit Med Rev. 1965;45:92-96.
4. Durance RA, Parsons V, Atkins CJ, Hamilton EBD, Davies Cl. Treatment of osteoporotic patients, a trial of calcium supplements (MCHC) and ashed bone, Clin Trials J. 1973;3:67-73.
5. Annefeld M, Caviezel R, Schacht E, Schicketanz KH. The influence of ossein-hydroxyapatite compound ('Ossopan') on the healing of a bone defect. Cur Med Res Opin. 1986;10(4):241-250.
6. Stepan JJ, Mohan S, Jennings JC, Wergedal JE, Taylor AK, Baylink DJ. Quantitation of growth factors in ossein-mineral-compound. Life Sci. 1991;49(13):PL79-84.
7. Fernández-Pareja A, Hernández-Blanco E, Pérez-Maceda JM, Riera Rubio VJ, Palazuelos JH, Dalmau JM. Prevention of osteoporosis: four-year follow-up of a cohort of postmenopausal women treated with an ossein-hydroxyapatite compound. Clin Drug Investig. 2007;27(4):227-232.
8. Rüegsegger P, Keller A, Dambacher MA. Comparison of the treatment effects of ossein-hydroxyapatite compound and calcium carbonate in osteoporotic females. Osteoporos Int. 1995;5(1):30-34.
9. Fromigué O, Modrowski O, Marie PJ. Growth factors and bone formatting in osteoprosis: roles for fibroblast growth factor and transforming growth factor beta. Curr Pharm Des. 2004;10(21):2593-2603.
10. Linkhart TA, Mohan S, Baylink DJ. Growth factors for bone growth and
repair: IGF, TGF beta and BMP. Bone. 1996;19(1 Suppl):1S-12S.
11. Spencer EM, Liu CC, SI ECC, Howard GA. In vivo actions of insulin-like growth factor-1 (IGF-1) on bone formation and resorption in rats. Bone. 1991; 12(1):21-26.
12. Bonewald LF, Mundy GR. Role of transforming growth factor-beta in bone remodeling. Clin Orthop. 1990;250:261-276.
13. Stanosz S, Zochowska E, Safranow K, Sieja K, Stanosz M. Influence of modified transdermal hormone replacement therapy on the concentrations of hormones, growth factors, and bone mineral density in women with osteopenia. Metabolism. 2009;58(1):1-7