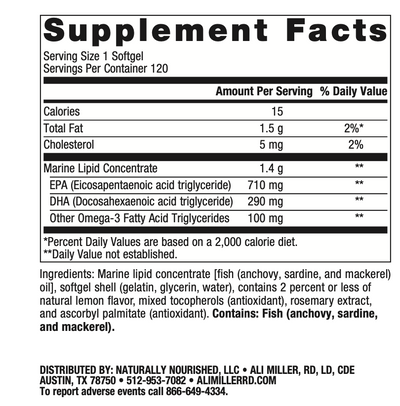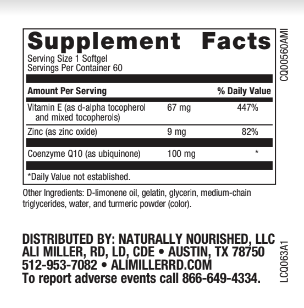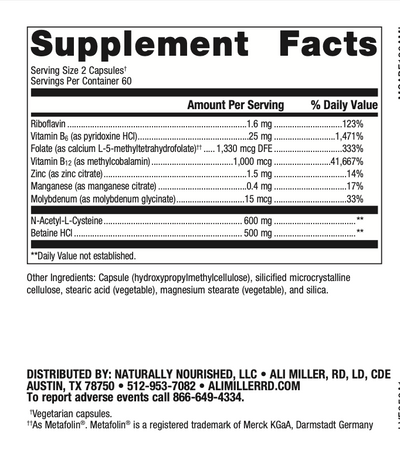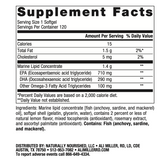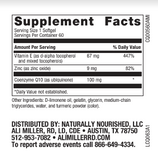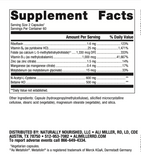 Heart Health Bundle
EPA DHA Extra 120 softgel capsules
CoQ10 Complex 60 softgels
Methyl Complete 120 capsules
Boost and Burn 8 fl oz
Regular price
$252.55
$222.24
Our go-to bundle for all of your cardiovascular needs with potent anti-inflammatory and antioxidant support
FREE shipping on orders over $175
Heart Health Bundle Supports
Balanced lipid levels
increased HDL and lower triglycerides
Reduced inflammation and C-Reactive Protein levels
Reduced vascular inflammation and homocysteine levels
Improved energy and body fat burn
Reduced blood pressure
Normalized heart rhythm
Improved mitochondrial function and cellular energy
Enhanced insulin sensitivity
How to Take
EPA DHA Extra 1 at breakfast, 1 at dinner
CoQ10 Complex 1 at rise
Methyl Complete 1 at rise, 1 mid day
Boost and Burn 1 tsp at rise
Subscription & Use Tip
Lasts 1-2 months with typical use
Please note: bundles are discounted at 12% to provide you an affordable access point. Additional subscription discounts will not be provided on bundles.
This product also supports
Calm and Mood Energy and Performance Inflammation & Brain
Description
This bundle provides intensive support for anyone looking to enhance cardiovascular health. With potent anti-inflammatory and antioxidant support, the Heart Health Bundle can be used for those with family or personal history of cardiovascular disease, those currently on medications such as statins, and those simply looking for preventative care!  This bundle is good for 2 months.
EPA DHA Extra provides a concentrated pure dosage of omega-3s which have been shown in research to reduce cardiovascular mortality and improve cardiovascular outcomes. Research supports 4g/day of EPA and DHA delivered in 4 capsules daily can reduce triglyceride levels by 30% or greater. Beyond triglyceride lowering effects omega-3s support vascular elasticity, prevent blood clots, and reduce inflammation, a primary risk factor. Our formula features a concentrated, purified source of omega-3 fatty acids from sustainably sourced, cold water fish, in the most bioavailable form. Each soft gel provides a total of 710 mg EPA and 290 mg DHA. We test every batch for freshness, microbial contaminants, quality measures, heavy metals, environmental toxins and pesticides. Omega-3 fatty acids also reduce joint pain and support brain health.
CoQ10 Complex features a unique encapsulation of coenzyme Q10 (CoQ10) for stability, purity, and bioavailability. Studies have shown efficacy of COQ10 in treatment of heart failure and CVD while increasing HDL cholesterol and reducing high-sensitivity C-reactive protein. When considering myocarditis risk, the inflammatory process induced by the virus was suppressed by the COQ10 treatment which can reduce the impact of inflammatory spike protein making CoQ10 a considerable tool for infection and infection risk. Low CoQ10 levels have been associated with greater damage to the tissues after a heart attack or stroke. CoQ10 is an essential supplement for those taking a statin medication as we see these drugs to deplete CoQ10 levels. Supplementation with CoQ10 can reduce statin-related muscle symptoms such as aches and weakness.
Methyl Complete is a comprehensive formula that features L-5-methyltetrahydrofolate—a body-ready folate—along with N-acetyl-L-cysteine (NAC), vitamins B6 and B12, and betaine. Together, these nutrients support methylation and promote healthy homocysteine metabolism as well as vascular health. Homocysteine is a vascular marker of inflammation and rigidity, when you provide the body with ample methylation support the vessels work better and are less at risk for incident. As homocysteine is also a neurotoxin we see regulating levels as a great way to support healthy aging and cognitive function. 
Boost and Burn This liquid metabolism booster is a tasty way to get high doses of ribose and carnitine, two very important nutrients known for heart health, along with vitamin B5 for energy enhancement and muscle recovery. Carnitine has been shown to reduce chest pain, cardiovascular incident, and heart failure serving as an essential tool for those with a history of heart disease or cardiovascular risk. Carnitine specifically increases energy levels by helping body fat to be available to be burned for energy. This product is a great tool for those following a ketogenic diet program where fat is the primary energy source and may increase the body's ability to produce ketones.
* These statements have not been evaluated by the Food and Drug Administration. This product is not intended to diagnose, treat, cure or prevent any disease.

Why Naturally Nourished
Potency

Clinical Results

Synergistic Formulas

Third Party Tested

Purity
How to Use
Suggested use:
EPA DHA Extra 1 twice daily with food (may increase to 2 twice daily for more intensive support)
CoQ10 Complex 1 at rise (may increase to 2 twice daily for more intensive support or if taking a statin drug)
Methyl Complete 1 twice daily
Boost and Burn 1 tsp at rise
Heart Health Bundle
EPA DHA Extra 120 softgel capsules
CoQ10 Complex 60 softgels
Methyl Complete 120 capsules
Boost and Burn 8 fl oz